Happy Monday!!!!
I have a few things I'm sharing with you right now.
(I tried scheduling before I went to bed and just couldn't make it.)
1)
I just got back from OnStage Indianapolis yesterday.
It was a fabulous time with friends–new and old–some of whom we hadn't seen in 3 years.
Here's a quick pic of my team that was there–including adoptees & cardboard Rachel. (Mary Jo Snyder was MIA.)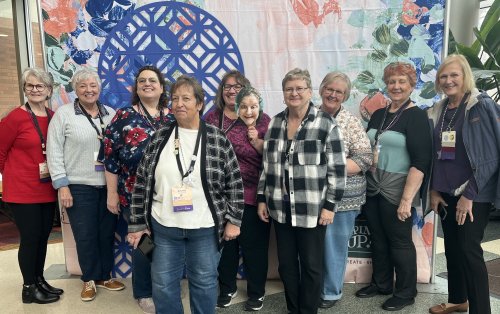 It was a fabulous time of connection–as usual–and I'll share more later!
2)
We're having "Black Friday" a week early–and it starts tomorrow!! (Nov 15-18)
Create more by spending less during the Seasonal Sale! Between November 15 and 18, 2022, select products from the 2022–2023 Annual Catalog (only) will be on sale with the following discounts:
10% off all punches
15% of all stamps (Host stamp sets are not included in this sale)
20% off all dies
20% off all embossing folders
20% off all

non-specialty

Designer Series Paper
With the season of giving upon us, this is a great opportunity to buy gifts for your fellow crafting enthusiasts, or to stock up on supplies for all your upcoming handmade projects. Remember, this sale is for four days only! Don't miss out!
Here is the flyer showing pricing after discounts: Download SEASONAL_SALE_FLYER
3)
I have a Stampers Club that meets the 2nd Tuesday of even months (Dec, Feb, April…) looking for 2 more members!!
We're gonna start meeting at 10am!
Are you interested???
You make a couple projects each time; take a turn being hostess/earn freebies; have fun!
Click here to read about my Stampers Clubs.
AND you get invited to my Annual Hostess Appreciation Party!!!
Please let me know soon if you're interested!!
We're starting back up Tuesday, December 13!
4)
Here's the card I made for our Shoebox Swap in Indianapolis: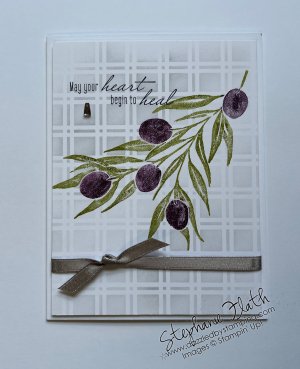 Product List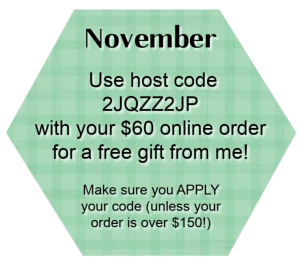 I'll be back later with MORE from OnStage!!
Have a fabulous day!!!