I'm back with the scoop!!!
OnStage Indianapolis was fabulous!!!
It's always good to make new or deeper connections–and get hugs!!!
I'll start this time with a bigger group pic: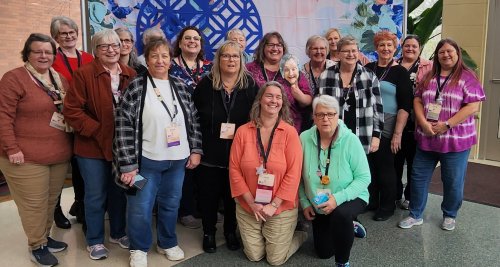 We didn't even get the whole group!!!
Some people didn't understand the assignment. 😉
But I was trying to coordinate this pic when the pretty backdrop for photo ops wouldn't be busy!
There were another 10 people or so I wanted in the pic. Oops.
I didn't realize til I was blogging last week that I hadn't seen some of these people in 3 years!
Hugs were definitely needed.
And there may have been tears. 
BEFORE I GO ON, I have to bring your attention to cardboard Rachel!
She's a good friend we met in Lansing 3 years ago; Nadine & I visited her last year before a big surgery; and she's an adoptee of my team.
She had ANOTHER surgery (6 weeks ago?), and was really bummed she was completely missing the event. (Her progress is taken in baby steps, and she has a long way to go.)
So we brought her with us AND I made a scavenger hunt for my Shoebox peeps that included taking pics with her through the day.
It was fun including her, and she said "we" had a great day!!
If you are a prayer warrior, remember Rachel Markin, as she's dealing with 2 chronic diseases. She so appreciates prayer!
So watch for her in our pics! (In the one above, I told her she's shorter than usual! She said, yes, short and skinny! 😀 )
On the road with Judy Cole (from Alaska! Yay!!!), Sherry Moore and cardboard Rachel!!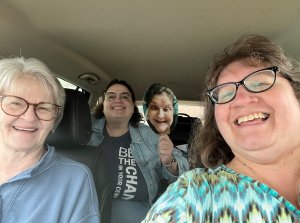 Enjoying The Drury Plaza's appetizer bar turned full meal–Mary Jo Snyder, Nadine Stolt, cardboard Rachel & Arlene Dassance!! 
When I planned my Shoebox Swap, I didn't think SU! was having CenterStage again! (for a certain title and above) Well, they DID, but I kept my Shoebox Swap and left Nadine in charge after I got it started.
I finally met my co-demo council members (2020) IN PERSON!!! And of course, we had to get a pic with the fabulous Shannon West–!
Here's our group with a few more of my travel buddies who earned CenterStage.–added Inez Oberg, Donna Melcher, Christi Waite & Carrie Hacker
Besides seeing each other again, we got to enjoy a dessert bar which also included fruit, ice cream and sundae toppings.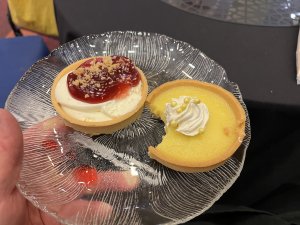 The Shoebox Swap went on without me: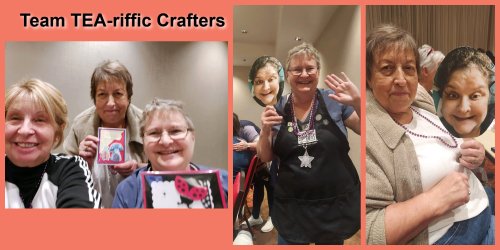 Before I left Nancy Olson & Bev Mamayek brought me cupcakes for my birthday (a week before); Jamie Sales, cardboard Rachel & Nancy are "blowing out the candle."
The future Silver Elite crew! They're all Silver, working to promote and get extra perks as a demonstrator! (Well, I think Rachel is not Silver, but I know she aspires to be Silver Elite some day!!!)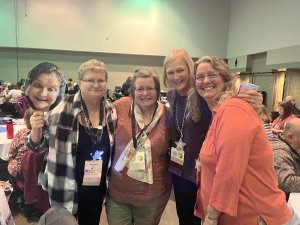 I sat by Terri Kosten & Catherine Popowich. Terri didn't stay at our same hotel; she rode with a different friend she'd met. So I wanted to spend time with her, too! Catherine is about to be an adoptee, I think.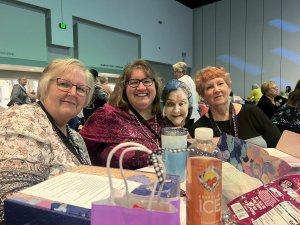 Terri & Sherry got to stand and wave for their accomplishments/promotions! Their first OnStage ever!!!
I missed taking a pic of Nadine, cuz I forgot and had to stand, too! But here's a PRIZE PATROL pic of her and Mary Jo!! Do you spy a new DSP???
Pics with my cousin, Donna Melcher, and one of my fave [Rachel] pics with Catherine….looks like she's photobombing!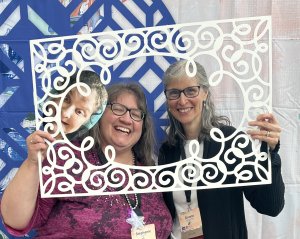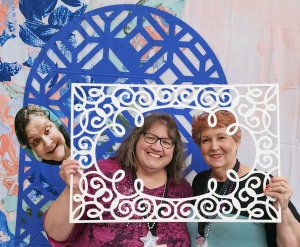 **Robyn Scherzer & I walking the stage (& taking a selfie) and celebrating earning the incentive trip!!! Our normal trip buddies (Cheryl Lentz & Sarah Schueler were in VIENNA celebrating Sarah's $1 million sales this year and Cheryl's $500k!!)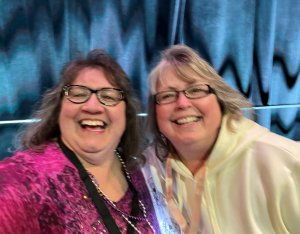 All my 20-year buddies! Bev Mamayek, Julia Mazur, me & Carrie Hacker
As I'm getting to the end, I realized I never took pics of the actual CARDs swapped, nor of all the loot we got for attending!! I guess that will have to be tomorrow's post.
But here's a quick pic of the NEW MINI CATALOG coming out (going live) January 5. They'll be mailing mid-December.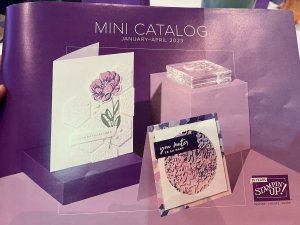 Have an amazing rest of your day!!
**TRUTH IN ADVERTISING: Less than 1% of all demonstrators earn the incentive trip each year.