Good morning!!
I have the closeups of all the cards I showed yesterday with the Twisted Ribbon Technique.
Did YOU play along, too?
Cool technique!
Tomorrow I'll share the samples from my friend Cyndi Pratt.
---
BEFORE I share my samples, I'm wondering if you have an interest in joining my Saturday morning Stampers Club?
We have an opening and have so much fun!
We meet at my house, 10am every other month–on the 3rd Saturday of odd months. (So next one will be 9/17.)
You'd take a turn being hostess one of those times.
You're required to place at least a minimum $25 order each month.
This group also does a card swap every time.
Here's more info on my clubs: https://bit.ly/clubsDBS
Let me know if you're interested in joining us!!
---
Here's the one I actually made during my Live!: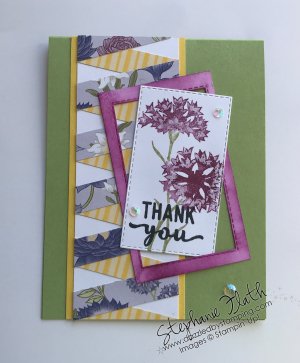 SPECIFIC MEASUREMENTS for MY card:
Pear Pizzazz: 5 ½" x 8 ½"; scored at 4 ¼"
Daffodil Delight: 2 ¼" x 5 ½"
Basic White cs: 2" x 5 ½" AND 2 1/4" x 3 3/4"
DSP #1 (7 pcs): ½" x 3" (Tip: choose coordinating DSP that has a smaller design that can be seen in a ½" strip as opposed to something like the large plaid in the Cottage Gingham DSP.)
DSP #2 (7 pcs): ½" x 3"
PRODUCTS USED:
Here are the other samples I made: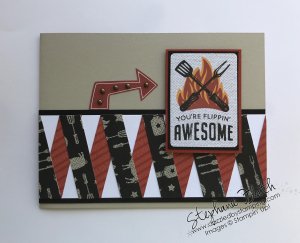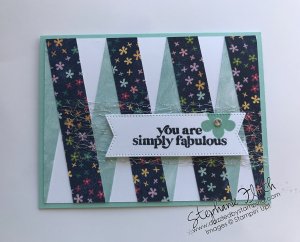 Here are some of the main products for these samples:
---

These are the newest options for SAB FREEBIES:
Here's what's still available from the original options: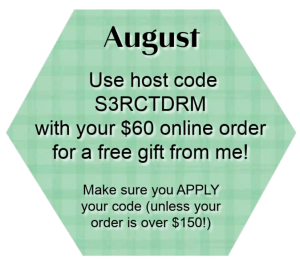 Have a wonderful day!!