Hey peeps!!
Sorry for the delay posting here.
Liz is home! (She drove herself here!) So I'm NOT traveling today like I thought I would be.
Stampin' Up! has announced their Online Extravaganza–which starts Friday!
But I decided I'm gonna share details in a separate post.
For NOW I have a few projects to show you from my Facebook Live! yesterday morning!
I demoed the Envelope Punch Board–for a simple envelope AND an adorable gift card holder.
If you came to my Christmas Stamp Camp or clubs early this month, you already saw the gift card holder.
BUT–I used some different colors AND I know some of you struggled with where to do the punching, etc. 🙂
So here's my envelope and a quick card using Dashing Deer: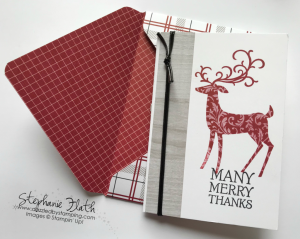 Here's the gift card holder I made, along with several others I showed. 
Aren't they CUTE???
To make your own, you'll need an Envelope Punch Board and preferably your Stampin' Trimmer or a pair of scissors.
Cardstock base: 3 1/2" x 5"; scored at 2 5/8"
DSP: (1) 3 1/4" x 2" and (1) 3 1/4" x 1 3/4"
Here's the video: 

Have an exceptional day!!