At Stampin' Up! we refer to that as ONLINE EXTRAVAGANZA!
Here's the deal!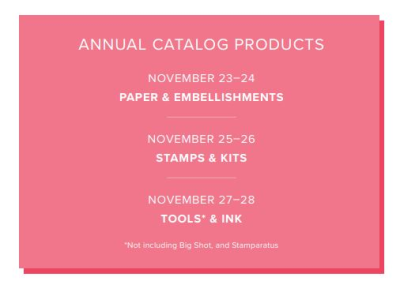 Each sale begins and ends at midnight (MT).
THERE ARE SOME EXCLUSIONS…
Bundles (they are already discounted.)
Hostess stamp sets (same + they're exclusive)
Anything Paper Pumpkin-related…monthly & prepaid subscriptions, past kits, etc
"You Can Make It" Kits, like on pg 75
There's also an additional list of specific items excluded–I'm guessing partly because of their current inventory levels.
Download Online Extravaganza 2018.Exclusions
Click here to order: 

But before you do, there's MORE!!!
It's STILL my birthday month!
Every order of $50 or more from me this month is entered into a drawing for a $50 shopping spree I'll give away at the end of the month!
My hostess code freebie is still valid!
Place a $50 online order using my hostess code Z7R6K6VF and receive a free package of Basic Rhinestone Gems from me in early December.
I'm giving away my leftover Holiday or exclusive product that has been discontinued or depleted!
For each 2-day sale, I'm drawing 1 random name from the buyers.
The first name will be drawn Monday morning, 11/26; the other 2 names will be drawn the morning after the sale ends (Tues, 11/27; Thur, 11/29.)
Winner will receive a goodie bag that includes at least one discontinued item + other coordinating item(s). (They are partial pkgs from my personal stash. Any 12 x 12 items mailed to you will be cut to 6 x 6 size for easier mailing.)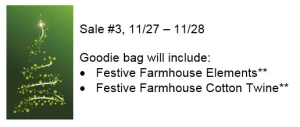 **indicates discontinued item

Have fun shopping and saving!!