I apologize AGAIN for the delay in sharing with you!!
Grab your cup of coffee!
It's gonna be a long one cuz I have lots to share!!
It IS technically still MY weekend!
So I'm not late. 😀
OnStage Live! in Orlando was ABSOLUTELY AMAZING!!!!!!
(but it kinda kicked my butt….I've been struggling to get back into things since I got back!)
For those of you who haven't heard me talk about OnStage before, it's a training seminar Stampin' Up! hosts for its demonstrators.
The LIVE version is 3 days long.
Before now, I've only ever been to the LOCAL/1-day version. Those are held throughout the markets where there is NOT a LIVE version going on.
Local is FUN!
LIVE is SPECTACULAR!!!
I kept hearing different numbers of attendees, but I'm going with…there were over 7,000 demonstrators celebrating together!
In case you didn't know this already, STAMPIN' UP! IS AN INCREDIBLE COMPANY!
And I'm proud to represent them!
The thought and effort they put into this fabulous 30-year celebration in indescribable.
So much energy and love and laughter and fun and tears (yes, you know me!).
We received our Occasions and Sale-a-Bration Catalogs (won't go live until January 3) AND SO MUCH FREE STUFF!!!!!
This is most of the stuff I came home with–most of it from SU! but also my swaps and other gifts from friends: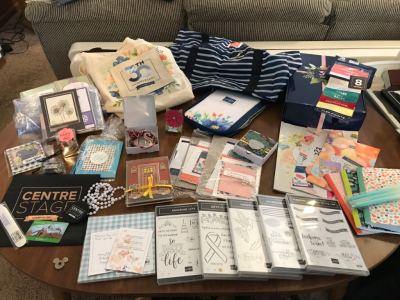 Yes–stamp sets, bags (one is zippable back into a pouch), a beautiful tool kit and so much more!!
I loved having part of my Dazzling Demos Team there with me–Nadine Stolt and Deb Anderson.
We had a great time together!!!
Here's a highlight video from OnStage (and CenterStage, for Silver Elite & above) Live and Locals around the world:
And we're all working on the rest of our team coming to the next OnStage Local which is in Minneapolis. (Actually there are many locals in the US, but this one is closest.)
ANY demonstrator/any title can go!
Do you wanna join my Dazzling Demos Team and come with us???
Another of my favorite parts of OnStage is making new friends and seeing good friends I've made over the years.
In this first pic, I'm pretty ragged.
It was my travel day; I never slept the night before I left for Orlando (still working on swaps)–AND it was hot in Orlando. I know–poor me.
This is actually taken at a (party room?) at Epcot. (A pass to Epcot was a perk for Silver Elite and above Demos.)
This is my Cruise Family; we met on the Alaskan Cruise and all earned Greece as well: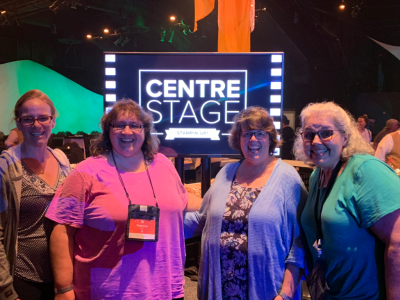 Sara (Cheryl's upline), Steph, Cheryl & Lisa Marie
I was so happy to see them again!
I found another friend, Cindy, at CenterStage, but it took a little effort!
(What did people do before texting and cell phones???)
The funny thing is we never got a pic TOGETHER!!
We discovered we don't make good friends cuz we BOTH forget to take them!
Here's all I got at first: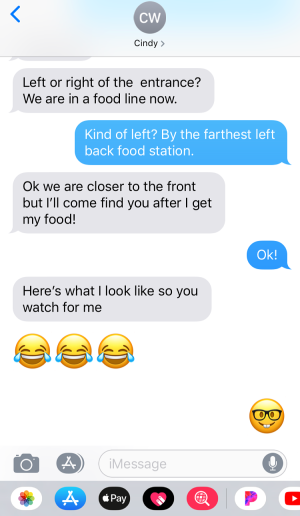 Haha! Then I got this. AFTER I found her:
It's the only one I got of her!
Maybe I'll have to photoshop us together!
I got to see my friend Dawn (that I shared her video a couple months ago.):
We cried together. We're BOTH puddles of emotions! 😉
Did I tell you she made it to Greece??? YAY!!
OH!! And I got to see my friend Sharon that I met on my very first incentive trip (weekend getaway) to Washington DC!
Good thing SHE remembered to take a pic before we left!!
I haven't seen her since 4 years ago? when I met her!
I MAY have cried when I saw her…
I dunno–I was just so happy to see her!!!
And she was like, "why are you crying??"
You know me…..
And my team (and everyone else there?) took pictures with Shelli: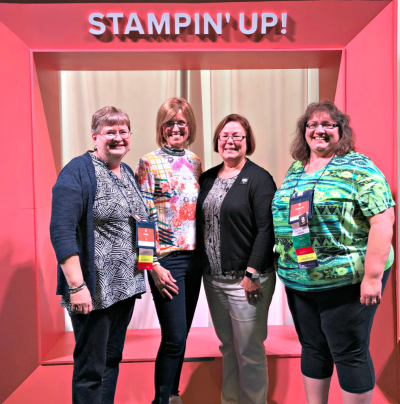 We met lots of people.
One was Wendy.
She makes me happy.
She introduced herself to me with, "I like all your ribbons." (I'll tell you about those later.)
How can you not love that?
Well, when I totally fell in love with her was when her number was called for Prize Patrol (all giveaways–some are for your assigned number; some are announced as "all attendee giveaways.")
She was up out of her chair, screaming and jumping around!!!
Hahaha!!!! I LOVED IT!!!!
Stampin' Up! obviously wants us to be excited!
There was no need to instruct Wendy to do that!!!
When others' numbers were called, she leaned forward and was like, "why is no one getting excited???"
I told her I'd make her proud when I was called. 😉
Here she is after she calmed down a little: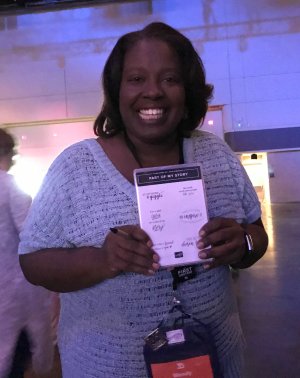 Here's more of us before we left Orlando:
Steph, Wendy, Nadine, Deb, Anita
Ok, so back to the ribbons….I got several and was really excited about it!!
Everyone gets one with their title on it.
People with achievements earn an additional one for each specific achievement category.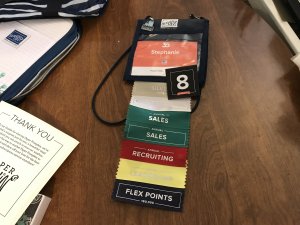 I was really excited that I got to walk the stage (instead of just standing and waving like we all did for some) for 3 of my achievements!
I was even MORE excited that ALL 3 of those were the same ones for which Lisa Marie got to walk the stage!
(Actually she may have had an extra.)
She took a selfie of us on stage: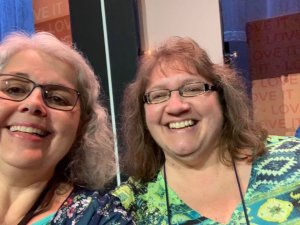 Us on the jumbo tron:
I TOLD Wendy I would make her proud! 😉
Then ALL of us got to walk for earning Greece!
(And I found out Dawn and I aren't the only puddles of emotions! Cheryl is right up there, too. Makes me feel so much better! 😀 )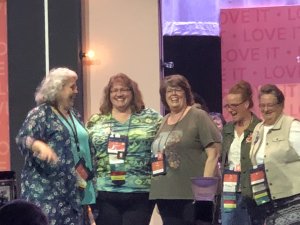 Lisa Marie, Steph, Cheryl, Sara (& I'm not sure who else?)
One more–Career Sales:
So $400,000 Career Sales is quite an accomplishment–that I have YOU, my customers, to thank for it!
Thank you so much!!
But I have to tell you…THE #1 Demo in sales for the US had $445,000 for her YEAR!
That's crazy amazing!!!
The #2 was $309,000! (I kiddingly said, "SLACKER!! haha!)
It honestly was really emotional for me to see even THOSE ladies celebrate their successes–along with the several new $1 million and $2 million Career Sales achievers.
I can't imagine the work they put into their businesses, and I'm so very proud of them!
Many of them have huge online businesses–but online is a lot of work and dedication!
It was just really wonderful to celebrate with them all!
I was VERY PROUD of Nadine and Deb, too!!
Nadine promoted to Silver (which bumped me to Silver Elite):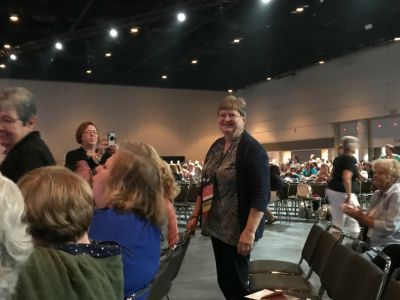 And Deb promoted to Bronze Elite: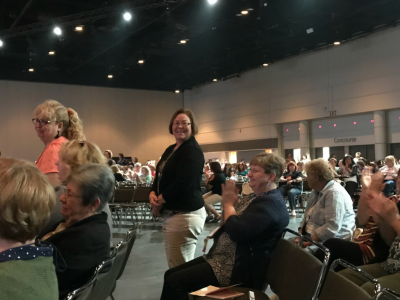 Congratulations to you both, Nadine & Deb!!!
Ok, so now that I've shared all my successes with you, I have to keep it real.
If you don't know or can't tell already, Todd is my biggest cheerleader.
He supports me, loves me and is proud of me.
But if you know anything at all about Todd, he has a funny sense of humor–one of the things I love about him.
And he has a goofy perspective.
So when I was telling him the story about Wendy and my ribbons, he got a mischievous look on his face as he continued to listen intently.
When I was done talking (and he still had the look on his face), he reminded me of this movie. And my ribbons will never be quite the same:
"You might wanna wear those on the inside."
Leave it to Todd….
Keepin it real.
Keepin' me humble. 😉
Here are a couple more pics I thought you might find interesting that I loved.
late check-in…organized and quick!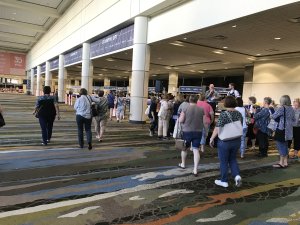 waiting to get into the Main Stage–that's probably not even half of us!
can't wait!!!
1 of 3 lunch & stamping rooms!!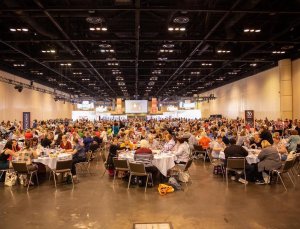 Day 1 & Day 2–one in EVERY lunch box!!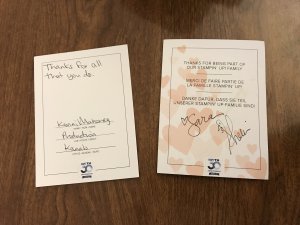 Big shotting!! 1 side of 1 of the rooms!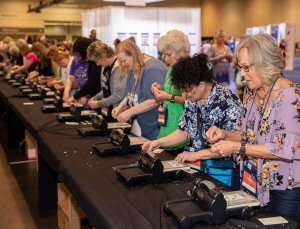 mass exodus!! look ALL the way back!
an organized swap I joined (3 groups of 50); can you see me?
special CenterStage lunch & training on the last day
CenterStage only gifts–I LOVE extra perks!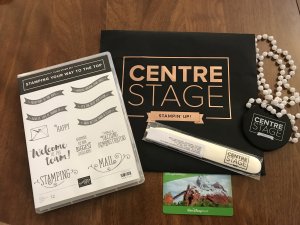 Sara & Shelli–such big hearts for their employees and Demonstrators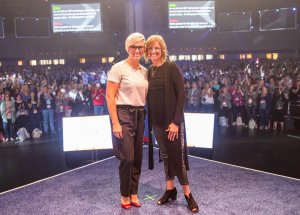 Sara & Shelli end the event stamping together–barefoot. Get comfy!
add Sara's daughters:
Shelli's whole family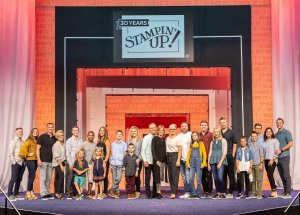 the party ended but the confetti kept coming!
It was the best week/weekend!
I still have lots of swaps to share with you over time.
AND I have a bunch of business stuff to share, too, but it's past bedtime.
Posting this early in the morning, and I'll be back.
Have an incredible day/week!!
(oh–ps: my Facebook Live! will be a day early/Tuesday this week! Wednesday I'll be a traveling to go get Liz.)