Hey peeps!!
I'm a little behind on my stamping!
But…..I have a great swap to share!
I was so happy to be invited to a new swap group after our Alaskan Cruise!
I'm focusing on the amazing stamp set Winter Woods this week.
It's one of 3 (woods) sets we're using at my Stamp-a-Stack in a couple weeks!
Here's my swap from Jan Rodrian: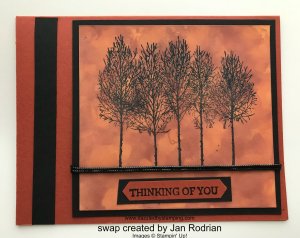 I think I may just like this strip of trees as much as I like the long line of them in Lovely As a Tree!
Definitely using them at the Stamp-a-Stack!
Details & Sign up here:
$30 class fee or free with $40 order
$30 class fee or free with $40 order