Hey peeps!
It's September 1–AND a long holiday weekend!
So this is gonna be a quick post!

Bonus Days Code Redemption starts today!
First find your email from Stampin' Up! that includes your Bonus Days Codes. It will look like this (1 email per order, regardless of how many codes you earned):
 Second, you have 2 options for redeeming:
1) Place your order directly with me–phone/email/text–before September 30. If you choose this method, you must forward me your email including the Bonus Code(s) if you haven't done so already….this includes those using them in clubs.
2) Order online. <–click here before September 30. You may use bonus codes and hostess codes in the same order. HOWEVER, keep in mind any required minimums (like club commitments, etc) must be covered AFTER the bonus code is applied.
Example: Order a single $25 stamp set at a club; use a $5 bonus code; you still need to order a minimum of $5 more
HERE are the instructions for redeeming bonus codes online yourself.
I will be back LATER THIS WEEKEND–Monday/Tuesday?–with new September Freebie and other "housekeeping."
I will tell you this, though, there's a hostess special in September for qualifying parties.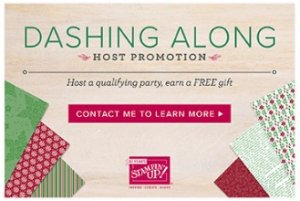 What's your thought?
Wanna have a book party?
Host a workshop or private class during the day?
Talk to me!
Let's work something out!
If you're already a scheduled hostess, invite a friend(s) to your club (and TELL ME ahead of time!) or collect outside orders to boost your sales!
Have a wonderful, safe holiday weekend!!
And yes. I did realize I still got kinda gabby. 😉