It was beautiful heading into Skagway!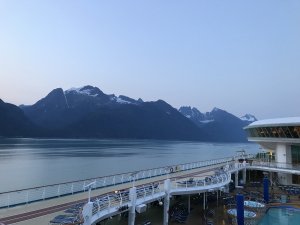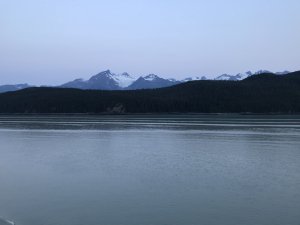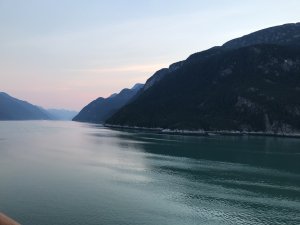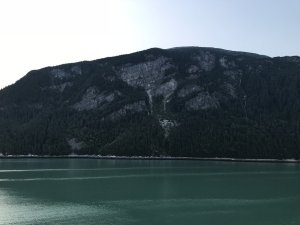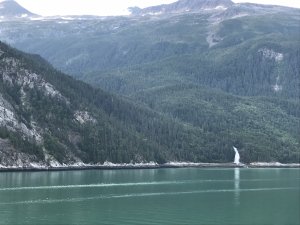 We started with an EXTRA early continental breakfast delivered to our room this morning so we could get to our 1st excursion on time!
We were taking the White Pass & Yukon Railway up into the mountains!
We met our new friends from our whale watching excursion and hung with them on the train.
Actually probably MORE THAN HALF the time, Todd & Jim were at the front of the car–outside taking pictures.
Pretty much the WHOLE way back down, they stayed up there cuz everyone else was done taking pics, so they didn't have to take turns in the space anymore!
They were 2 peas in a pod–which makes sense since they met on a photo safari! 🙂
Debbie and I chatted and enjoyed the scenery while our boys did boy things.
Because of their vantage point (and NOT through windows), all my pics from Skagway were taken by Todd.
The ones I've shared here to this point (without the disclaimers) were from my iPhone.
So here you go!
we rode by the river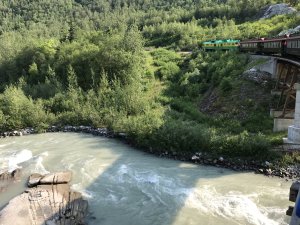 then we got higher and crossed it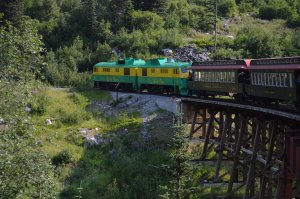 (from Jim)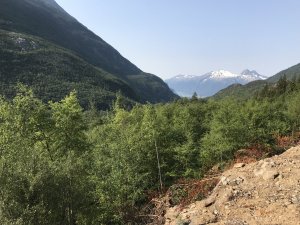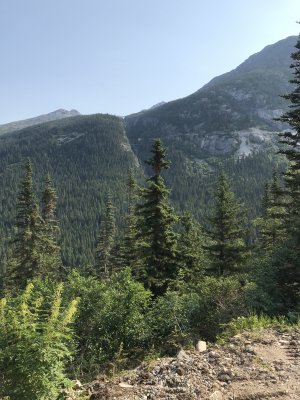 we were heading up and over there–you can see the track
the river we drove by/over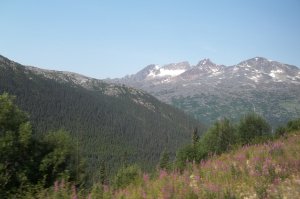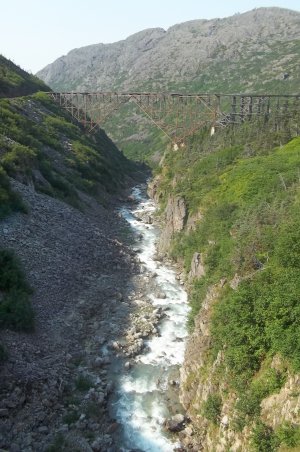 an old bridge/train track not used anymore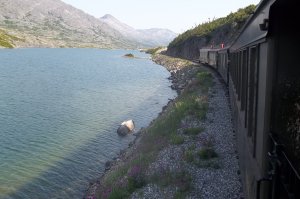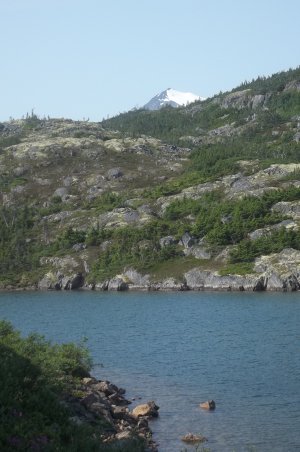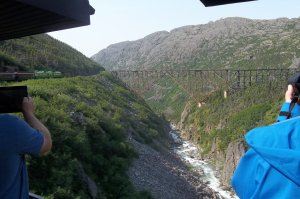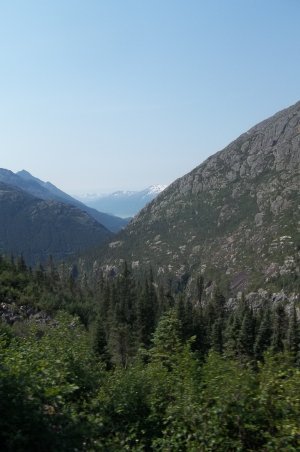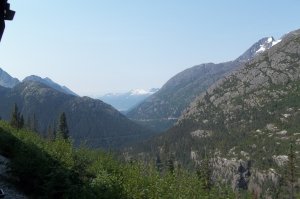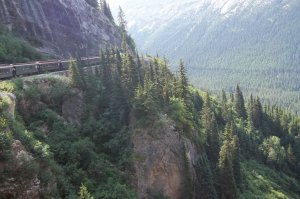 now WE'RE up on that high level track!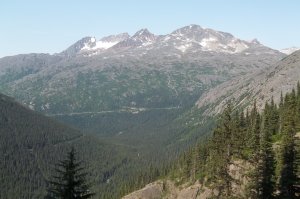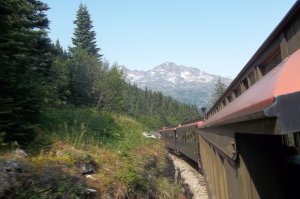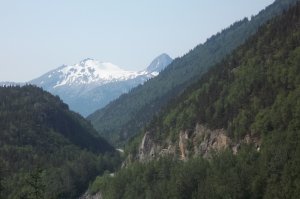 They didn't leave us up there.
I just stopped my pics here. 😀
We didn't see any animals on this tour.
It didn't hit me the train was too loud and would scare away any animals. :/
When we got back down the mountain, we walked around Skagway a bit (and mailed my postcards!)
We also found some over-priced but delicious ice cream that was just what we needed!
Remember–it was WARM when we were in Alaska!
Oh–and I absolutely LOVE THESE pics that Todd took in Skagway!
Love the perspective: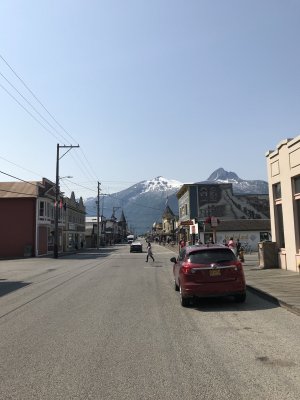 Excuse me, there's a mountain sitting on your road!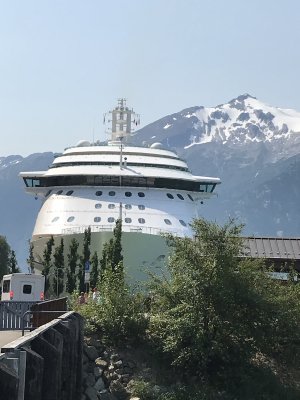 So we walked back to the ship and met more SU! people on the way.
We had to turn in paperwork.
Are you familiar with Port Valet?
IT IS FANTASTIC!!!
You have to sign up for it, and the night before the cruise is over, you have to put ALL your checked bags in the hall for them to take care of.
We don't see them again/lug them again until we got off the plane back in GR!
And it was FREE!
SO.GOOD.
Ok, so our next excursion was a salmon bake in Liarsville.
It was the only salmon bake that worked around the rest of our schedule.
But–we should have stayed home.
The food was average; corn bread was dry!
There was a really cheesy performance we didn't know about.
And they–from the busdriver on the way there to each performer to the same driver heading back to the ship–missed NO opportunity to ask for tips!!
It was ridiculous!!!
The show–although intended for families–wasn't as family friendly as it should have been.
DON'T go to Liarsville.
(Conversely, we would HIGHLY recommend both Gastineau Guiding–Adriane/Captain Jen and the White Pass & Yukon Railway.)
SU! stuff
Back to the ship…
So my post title mentioned "pillow gift envy."
Here's what was waiting for me: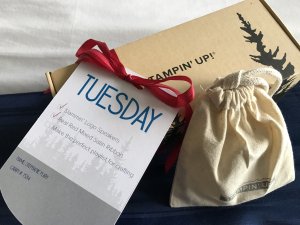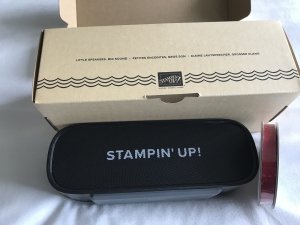 Bluetooth speaker and ribbon!
Todd believed the gift was mis-labeled and should have said "for 1st guest." 😉
A few other 1st guests had the same pillow gift envy!
Have I mentioned SU! knows how to spoil us??? 🙂
I'm ending this day with a pic from our friend Jim.
He got the sunsets; Todd got the sunrises. 🙂
from Jim
Have a spectacular day!!
**Truth in advertising: less than 1% of all Stampin' Up! Demonstrators earn the incentive trip each year.