It's another amazing month of deals!!
I'll share in a sec, but first I have to share a fun event!
We had Shannon West, our Demonstrator Development Manager from SU! visit us last night for a simple Meet & Greet.
I went to a dinner beforehand with other leaders in the area; somewhere there will be pics of that, but I don't have them yet.
It was a simple, fun night to get to know Shannon and other demos in the area!
Here's Shannon and all of my team that could make it: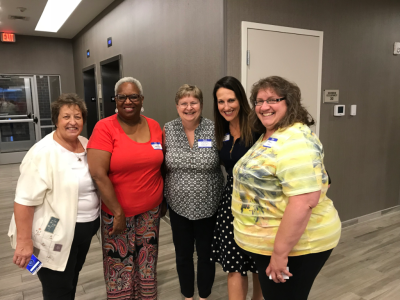 Arlene, Diane, Nadine, Shannon, me
I had to share a story with Shannon, because SHE'S the one that made the adorable chick card at OnStage (with the honeycomb embellishment belly?) and showed us her technique of how you could mail it?
You know–the one I copied at a Hostess Appreciation Party a few years ago?
She enjoyed hearing my story–but I didn't have her laughing/crying for 10 minutes like she had me when she did it! 😉
When Todd heard who our DDM was/who we were meeting with (the chick story), he said, "oh SHE'LL be fun." 
I have a sample pics from there, too, but I'll share those later.
FIRST DEAL:

Do you remember these?
Spend $50 in August (before shipping/tax), get a $5 coupon code to use in September!
REMEMBER:
SAVE YOUR CODES!!! They can't be reissued, and they will arrive in a SINGLE email per order.
"Whether you have 1 code or 7, they will look like this":
Especially considering many of you will use them in your clubs, anyway…if you'd like to forward me the email, I will keep track of them for you; you can always redeem them on your own, but I'll have them if I need for your club order. (You can use this "service" even if you're not in a club, but just want them safe.)
You can earn August 1-31; you can only redeem September 1-30.
You can redeem online or through me.
There are NO LIMITS to the number of codes you can earn at one time OR redeem at one time! Your order total just has to be more than the total value of the codes being used.
All standard minimum shipping applies online.
SECOND DEAL–exclusive product bundle:
Get in the mood to create something full of colors and seasons! Introducing the all-new, limited-time Color Your Season products:
Blended Seasons Stamp Set, an exclusive 10-piece wood– or clear-mount stamp set with images for every season (also available in French)!
Stitched Season Framelits Dies, a coordinating stitched die that

includes stitching on both the positive and negative images

!
Watercolor Pencils in 10 new colors! Note: These Watercolor Pencils may be available in a future publication.
Please note: The

bundle

includes the stamp set and dies only. It

does not include the Watercolor Pencils

.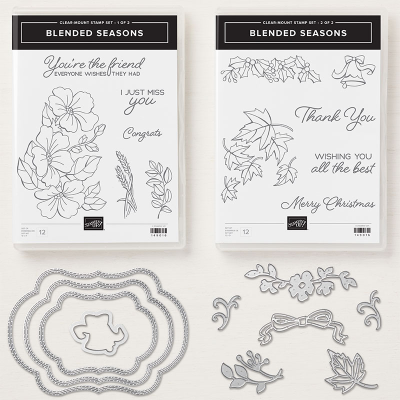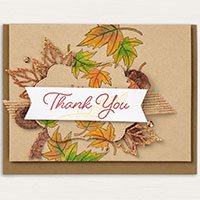 Don't forget to subscribe to Paper Pumpkin if you want a little craft event to arrive in your mailbox every month!
Here's the video for the adorable July kit:
CLICK HERE TO SUBSCRIBE TO PAPER PUMPKIN MONTHLY!
Fun kits are delivered right to your mailbox!! All you need is your favorite adhesive and possibly scissors.
You can subscribe any time (by the 10th of the month for the "current" month).
You can cancel any time (all changes–again–by the 10th).
And you can even just skip a month–say if you're on vacation.
Ok, that's all I can find/remember at the moment!!
Of course, if you have any questions, let me know!