I'm starting this post off with my pillow gift, because I told you the wrong one yesterday!
Here's the gift I received the night before we entered the Tracy Arm Fjord: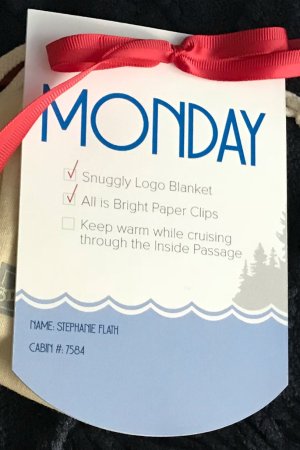 When we were telling someone about our trip and explained the Tracy Arm Fjord, that person called it a cul de sac.
Perfect analogy!
It's a long, narrow passageway.
At the end of the "cul de sac" is a glacier…which is the point!
…getting as close to it as possible.
When you're by the glacier, it's colder than when you're not.
(Thank you, Mr Obvious!) 😉
Plus, we were entering the TAF early in the morning.
It was fairly cold when we were closest to the glacier but were turned away from the sun.
We wore sweatshirts and I pulled my sleeves over my hands.
But as soon as we turned back to the sun, it was plenty warm again.
I heard some people did use their blankets, though. 🙂
Our itinerary said 7am-12pm, but we were getting close enough to see lots of ice floating much earlier than that.
I don't know how long he'd been out on the balcony, but I think Todd woke me around 5 or 5:30am.
NOTE: I'll do my best not to, but it's entirely possible that I'll be posting duplicates as I'm combining my pics & Todd's pics from potentially 3 cameras. 🙂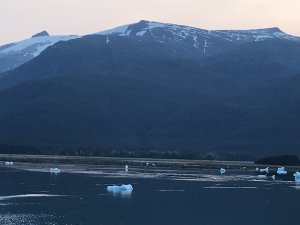 that big area of snow is a glacier
The amazing thing about going through the Tracy Arm Fjord was to this point, when we were on sea (clearly not up IN the mountains) the mountains were pretty far away and we thought the pics were amazing!
Once we entered the TAF, everything was up close and personal!
And they blew our original pics away!
I deleted many of them because of our new view.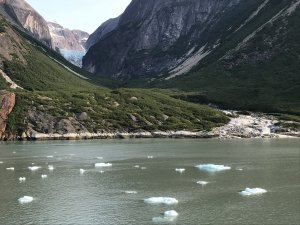 Our plan was to STAY PUT the entire morning, thanks to our balcony room that SU! gave each achiever.
So we ordered an early continental breakfast to be delivered again.
I kinda loved that option!
Just like dinner service, you can order as many of anything you'd like!
I made him laugh 🙂
As Todd tells everyone this story…once we got as close to the Sawyer glacier as the ship could, "the captain threw the ship into a 360–which sounds much more violent than it really is. It goes very slowly."
The ship spins in place for probably a couple hours to give everyone a good view of all sides of the TAF no matter where they are on the ship.
We spun either 3 or 4 times.
Here are pics of the glacier as straight on as we could get without having the sun cause problems in the pic.
Look how much blue is in it!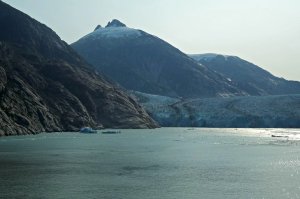 If a fishing size boat like we were on for whale watching were right up next to the glacier, my guess is it wouldn't even be as tall as 1/4 of that first ledge there at the bottom!
I just barely saw the very end of a calving–when a chunk of ice breaks off the glacier–but just once.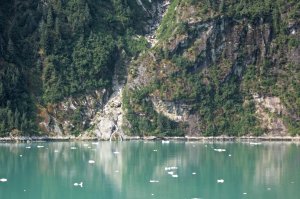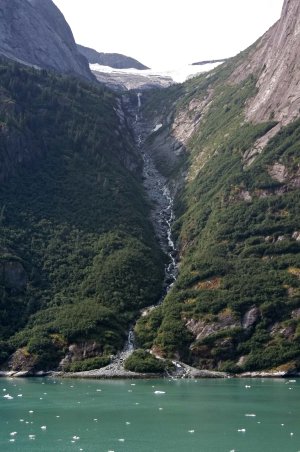 it's amazing to see these waterfalls…in pics they look like a thread; but when you look in the binoculars, its heavy, rushing water!
This is one of my favorite pics from the TAF, because of what we learned from our guide Adriane on our photo safari with her: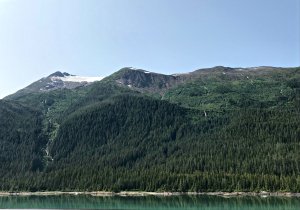 You see how there's a lot of dark green on the bottom 2/3 of the mountain?
And then there's kind of a "v" coming down on the left?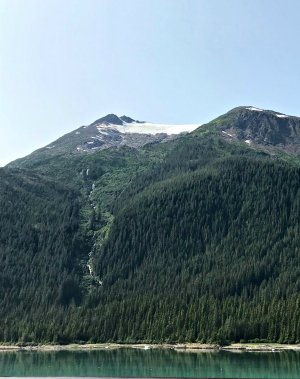 It's also a lighter green.
It's proof of an avalanche.
The lighter green is new growth.
We learned a lot from Adriane!
After Tracy Arm Fjord, we headed back out to sea for another day and a half.
The rest of the day was pretty relaxing–which was kinda needed after our 2 days of excursions and a very early morning.
I honestly can't remember if we went to any shows.
But of course, we went to Stampers Base Camp and dinner with our family. 🙂
Oh, while I'm thinking of it–I forgot to take a pic of THE VERY FIRST gift we received until last night.
This was on our cabin door when we arrived:
If we chose, we could slide a 5×7 pic of our own in there.
Stampin' Up! thinks of everything!!
Have a fantastic day!!
I just remembered I have more business info for you, so I'll be back again later today.
Are you interested in a Mommy & Me Class?
Tell me by tomorrow! Details here!
**Truth in advertising: less than 1% of all Stampin' Up! Demonstrators earn the incentive trip each year.