Morning people!
Happy Monday!!
It's gonna be a weird week with the holiday right in the middle of it!
Did you take the whole week off to avoid the weirdness??
Todd usually does, but THIS year he chose to take off toward the end of the month for some strange reason! 😉
Coutdown to Alaska = 18 DAYS!!
It seems unreal!
So my sample for you today is from my Open House.
I needed a little convincing to fall in love with Varied Vases.
I passed it by at first glance.
THEN I kept seeing samples!
Well….let me take a second look! 😀
Suddenly it was a need!!
"need."
Here's what we made:
One of the things I love about this bundle is it's a PUNCH!!
In general, I prefer punches to thinlits.
Another bonus is ALL THE POSSIBILITIES with this set!!
Each vase shape has 3 "finishes": outline, solid and designed.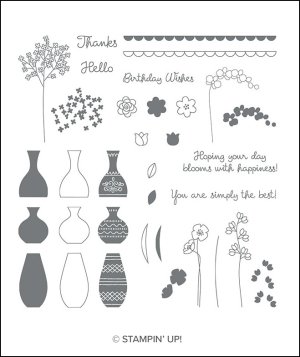 It's just adorable!
My colors here are Balmy Blue, Highland Heather and Night of Navy.
I used my Color Coach to help me get there.
I didn't have the Subtles Collection of DSP, so my strip at the bottom is actually Gorgeous Grape.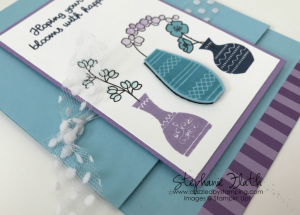 And have you noticed yet?
I just can't seem to get away from using that AMAZING POLKA DOT TULLE RIBBON!!!
I hope you don't mind. 😉
Here's all you need to make this card:
Before you move on with your day, makes sure you check out my post from yesterday!
There are LOTS of deals going on this month–including a piggyback DSP deal from me!!
If you'd like to take advantage of cheaper shipping, email me your order before noon today; I'm placing an order.
Have an amazing day and week!