We all know that coloring isn't my thing, right?
Well, I STILL think it LOOKS adorable!
I just don't wanna DO it! 😀
Nadine Stolt's swap for our Dazzling Demos meeting this month was from the Lots of Happy Card Kit: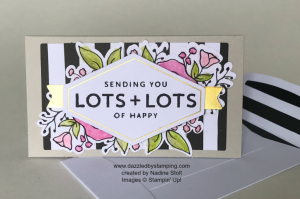 I love the design!
You probably can't tell, but the card I got is smaller than a gift card!
And with a coordinating envelope?
FUGETABOUTIT!
Hey–speaking of kits, did you realize that all of our "all-inclusive kits" have refills available?
All-inclusive = kit includes stamps and ink–besides the cards and embellishments.

 

Kit refill = all the consumables from the original kit, such as cards, embellishments and adhesives like Dimensionals or Glue Dots.

 

One last thing…have you bought a kit recently? The Mini Glue Dots in them are on a flat sheet (not a roll) and are covered with a backing like Dimensionals. Very convenient!

 
Here's a list of all our All-Inclusive Kits–besides Paper Pumpkin:
(pgs 7-10)
I have in mind doing a Notes of Kindness Kit Class end of summer or early fall.
I'll let you know!
Have a fantastic day!!