Good morning Stampers!!
I hope you're finding a way to stay cool already this morning!
I'm very thankful for our a/c!
I have a comparison I want to share with you….
I REALLY wanted to use the set Around the Corner and the color Mango Melody.
So I pulled them both out, plus my Color Coach.
The color combo that caught my eye was Mango Melody, Early Espresso and Coastal Cabana.
BUT–I thought I didn't have enough Coastal Cabana for what I had in mind, so I went with Pool Party instead.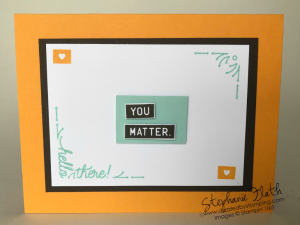 Now I LOVE Pool Party, but look at how the design POPS when I use the Coastal Cabana!
Turns out my design ended up not needing much Coastal Cabana afterall!
So I'm goin' with the poppin' colors for the rest of my cards!
(psst! this is my "thank you" card for the month)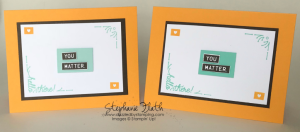 If you'd like a Color Coach, I still have a couple left for those who didn't preorder.
You can buy one for $8 or place any $75 order this month and get it free while supplies last.
Do you know my New Catalog Open House is this week???
I would love to see you!
You can come anytime between 1:30pm and 8:30pm Thursday OR 9:30am – 12:30pm Saturday.
Have an amazing day and week!!