We've never had a product like this!
This make-n-take from OnStage uses the "Delightfully Detailed Laser-Cut Specialty Paper."
The paper is extremely delicate!
We used Mini Glue Dots to adhere to the Delightfully Detailed Note Cards.
When we were passing out supplies and I was cutting the paper, I was asked by Nadine, "what color would you like?
Hello!?!?!?!
Have you not been stamping with me long enough to know????
Haha.
We HAD already discussed my love of Blackberry Bliss…
But I DID say it a little nicer–IF there's any Blackberry Bliss left, you KNOW I'd like that please!
(I HOPE I said please!)
Here's what the full sheets look like; they come vanilla on one side, white on the back: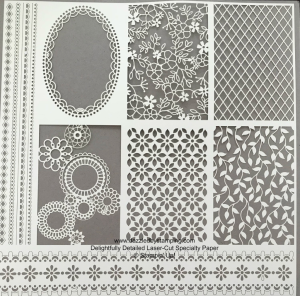 This first sheet you cut apart starting with the bottom border.
Then you can cut the other border and 6 overlays.
The 6 are sized perfectly to our Delightfully Detailed Note Cards & Envelopes as shown in our make-n-take.
THIS is a full 12×12 piece!
I can think of a couple of you who are going to love this stuff!
In case it hasn't hit you yet, the kraft background is just the paperboard sheets from the packaging.
The vanilla or white is all laser-cut detail!
It sure makes a pretty card!
Hope you're enjoying some sneak peeks and samples this week.
Have a wonderful weekend!
By the sounds of the weather forecast, I'll be staying inside! 🙂