There is SO MUCH going on right now!!!
FIRST OF ALL–CONGRATULATIONS to Claire Kirch for winning the exclusive hostess set Merry Patterns!!
Remember this set can be earned by anyone who has a $300 workshop or book party through this month!
Ok–today we are celebrating an amazing Stampin' Up! year AND my 1,000th blog post!!
I can't believe it!
Oh yah–I hit ALL my Stampin' Up! goals this year, too!!! Woohoo!!!
Thanks for all your orders–including the last minute ones for my drawing. 🙂
I appreciate every one of you who've helped me succeed!
In honor of my celebrations, I'm having a giveaway!!
Remember I told you about the Buy 3, Get 1 Free Designer Paper Sale yesterday?
Well, I'm giving away 4 pkgs of our amazing DSP–your choice of any that are included in the B3G1 promotion–to 1 random winner!
All you have to do is comment on this blog post TODAY (or by noon Eastern time tomorrow):
What is your absolute favorite item in the Holiday Catalog? OR
What is your favorite thing about Stampin' Up! OR
What is your favorite thing about my blog?
After I draw the random winner on Tuesday, I'll contact you for your choice of 4 pkgs and ship them directly to you. 😀
Keep in mind–not ALL DSP is included in the sale. In fact, only one of the Specialty DSPs and 2 from the Holiday Catalog are included. But I'm including ALL the DSP videos in this post so you can get a good look at your options.
Here's the list of DSP included in the promotion: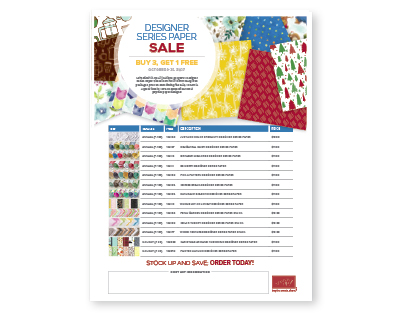 Here are videos showing all of our DSP:
Thanks for celebrating with me!
And thank you for a fabulous Stampin' Up! year!!
Check back tomorrow for another video from me!
I want to show you the 2nd card we'll be making at my Moving Cards Class!
(Tomorrow is the last day to sign up. RSVP)
Have a wonderful day and fantastic week!
Save
Save
Save
Save
Save