I have new classes on my Events calendar!
I thought it was time for MOMMY & ME, and I also finally worked with our new Oh Happy Day Card Kit!
It is super cute and a fun project to work on with others!
Before I show you a few things, I want to mention….
There's one week left to earn Bonus Days Coupons–$5 for each $50 order AND an additional $5 match from ME when your order is $100 or more.
If you earned Bonus Days Coupon Codes, they will come in the form of an email; don't lose them. SU! has no way to look up or reissue.
You may forward me a copy of that email if you'd like, so I'll have the codes on file for when you want to use them. (one more safeguard/convenience) That is NOT required; you may use them yourself with online orders as well.
Ok, next I have to tell you…I love that our kits come with full color pics of each card we make.This kit is completely inclusive–cardstock & embellishments, photopolymer stamp set, clear block, black Stampin' Spot & Kraft envelopes for each.
All you need to add is adhesive of your choice and scissors for cutting Baker's Twine.
Here are the cards from the kit the way I made them. (Not all are quite the same as the pics in the instructions.) They all come with Kraft envelopes.
These are standard size: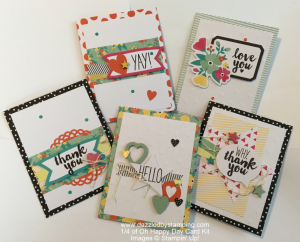 These are 4" x 3 1/2"–adorable tri-fold cards with the heart as the front panel. 🙂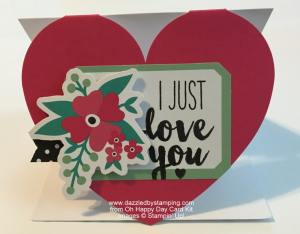 These are 3 1/2" x 5":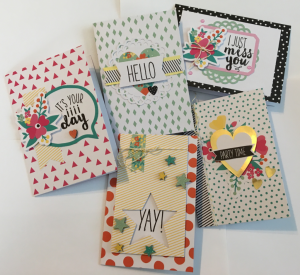 And THESE are adorable little 3" x 3" matchbox style cards:
Also here's a video with a bunch of tips for the kit:
Too much fun!!!
Make sure to check out my Events to find out what date works for you–for Mommy & Me or the Oh Happy Day Card Kit!!
Have an amazing day!!
Remember, if you can fall in love with a project, you can learn to create it! Here to help you channel your inner Creative Genius…
Steph
LIKE me on Facebook.
Follow me on Pinterest.
Subscribe to my FREE newsletter, and receive my "5 Tips for Making Fabulous Hand-Stamped Creations."
Save