Happy Friday!!
I made a few of these this month. 🙂
Of course, I DO have MUCH to be thankful for!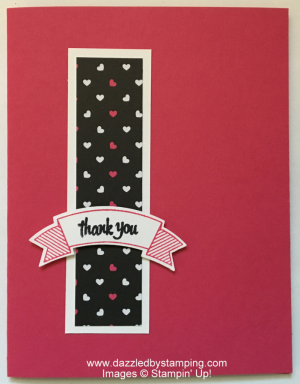 This DSP is called Pop of Pink.
Cute huh?
I like pink, but it's not my absolute FAVE. (This is Melon Mambo btw.)
Maybe next year SU! will have Pop of Purple!! 😉
The stamps are from the Thoughtful Banners bundle which includes the Duet Banner punch.
I love the stripe-y banner. 😀
Ok, reminder–you have 3 days including today to earn your Bonus Days Coupons!!
Order now, earn for later (August.)
Those of you who have clubs meeting in August….
You could consider placing an order online using the hostess code for your club (listed in the details of your event on my calendar) and use the coupon code towards a purchase AT your club.
One last note:
Have you had an address change somewhat recently?
Do you occasionally place your SU! orders online?
Have you updated your address with SU!?
If the first 2 apply to you, but you haven't done #3, go login and update your profile ("My Account"–top right) now.
Updating within an order ONLY updates it for THAT order.
Future orders–unless changed each time–would then still go to the old address. :/
Just thought I'd mention. 🙂
Don't forget to RSVP for new classes!
Have a wonderful weekend!!
Remember, if you can fall in love with a project, you can learn to create it! Here to help you channel your inner Creative Genius…
Steph
LIKE me on Facebook.
Follow me on Pinterest.
Subscribe to my FREE newsletter, and receive my "5 Tips for Making Fabulous Hand-Stamped Creations."
Save
Save
Save