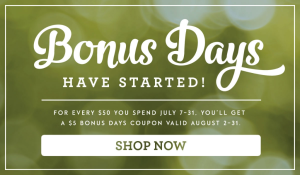 So silly question for you…..
Do you need ideas on how to spend $50 so you qualify for a $5 coupon for August?
Haha! I'm here to help if you do!! *Ü*
First, let me mention the Bonus Days of July started!
(Is that like the Dog Days of Summer? I kinda like that song.)
BONUS DAYS DETAILS:
For every $50 you spend July 7-31 (before shipping and tax), you'll get a $5 Bonus Days coupon that you can use August 2–31. This is a great opportunity to shop from your wish list, whether you buy your favorite products now or later in August with your coupons!
• An email address is required to participate in this promotion; Bonus Days coupon codes can only be delivered via email.
• It is strongly recommended that you both save emails containing Bonus Days coupon codes AND write down the coupon codes in a safe place. Codes cannot be resent if the email is lost, and lost codes cannot be recovered.
• Bonus Days coupon codes can be redeemed for any product, excluding Starter Kits and Paper Pumpkin subscriptions. New prepaid Paper Pumpkin codes can be redeemed.
Second, let me show you an amazing bundle everyone is falling in love with:
What's not to love about an adorable "mason" jar??
This is Jar of Love (photopolymer) and can be bundled with a great set of Framelits for $52! Thus earning you your first Bonus Days Coupon!
We made this card at my Open House a couple weeks ago.
Colors: Sweet Sugarplum & Rich Razzleberry, So Saffron & Delightful Dijon, Smoky Slate, Soft Sky and Basic Black.
These flowers are "2-step"–you build the flower with 2 different stamps; the first is the basic flower; the second adds a little more detail.
TIP: coordinating colors is fabulous, but did you know you can accomplish the same type of look with a single color?
Using the basic flower stamp, ink up in your choice of color AND STAMP OFF on scrap paper before stamping on your project. This obviously lightens the color.
Using the detail flower stamp, ink up in the same color chosen, but this time DON'T stamp off. Rather stamp directly on the lighter basic flower.
The result is a 2-tone flower, but you only used 1 color! BONUS!!
Third, have you thought about joining one of my Stampers Clubs??
I'm getting ready to draw hostess names for a Monday night club restarting in August AND I'd like to get another DAY club started.
Are you aware I have a "day" club starting next week?
If you have ANY INTEREST AT ALL, please let me know!
Tell me what day works for YOU!
Thanks for checking in today!
Happy stamping and happy shopping!!
Remember, if you can fall in love with a project, you can learn to create it! Here to help you channel your inner Creative Genius…
Steph
LIKE me on Facebook.
Follow me on Pinterest.
Subscribe to my FREE newsletter, and receive my "5 Tips for Making Fabulous Hand-Stamped Creations."