It's not often I tell you to wait…..
But I'm saying wait one more day before placing your order!
Starting tomorrow, Thursday, July 7, Stampin' Up! is offering BONUS DAYS through the end of July!
For EVERY $50 order (before tax & shipping), you will receive a $5 bonus coupon that can be redeemed on new orders August 2-31. Yay!!
An email address is required to participate

as coupon codes can only be delivered via email.
Stampin' Up! strongly suggests both saving the emails containing the codes AND writing them down some place safe. Codes cannot be resent nor can lost codes be recovered.
There is NO LIMIT to the number coupon codes that can be earned; AND there is NO LIMIT to the number of codes that can be redeemed on an order during August redemption.
IN ADDITION, if you double your order ($100 or more in a single order) July 7-31, I'll double your bonus!! (This will be offered in the form of a gift certificate from me, valid for the same redemption period, August 2-31.)
July (and eventually August) will be a great time to start whittling down your wish list from the new catalog!
Speaking of the new catalog, here's another celebration of my "Must Haves":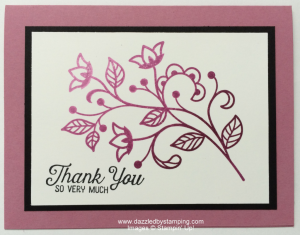 These were my thank you's for last month–featuring the amazing Flourishing Phrases set, Sweet Sugarplum cardstock and the Rich Razzleberry Ombre pad.
I've always loved the Ombre look–and you KNOW my thoughts on Rich Razzleberry! 😉
My stamp here was larger than the ombre pad–both wider and longer–so once I inked the stamp up well on one end, I spun it around (180 degrees) and inked up the other end, making sure to continue the ombre pattern in reverse.
(Can you tell the bottom of the stem starts to get lighter again?)
Here's a Bermuda Bay version of the same: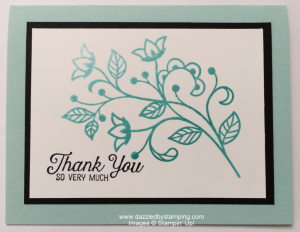 Couple things to keep in mind if you invest in the ombre pads:
The pads are NOT refillable/re-inkable. The darkest end is the true named color; the rest of the pads are lighter tints for which we don't carry refills.
There are tips for using these pads that are covered well in a great video! I'd suggest you watch it:
Thanks for stopping by today!
I'll remind you again tomorrow about placing your order for BONUSES! 🙂
Have a fantastic day!!
Remember, if you can fall in love with a project, you can learn to create it! Here to help you channel your inner Creative Genius…
Steph
LIKE me on Facebook.
Follow me on Pinterest.
Subscribe to my FREE newsletter, and receive my "5 Tips for Making Fabulous Hand-Stamped Creations."