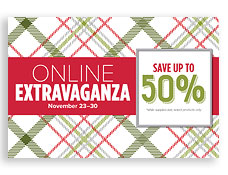 Who says you have to wait til Black Friday???
Our Online Extravaganza starts Monday!!!!
November 23 – November 30!!
A few people have asked me about our usual "buy 3, get 1 free" DSP sale.
Well, it's part of the first 24-hour Flash Sale–Mon, 11/23.
(There are TWO Flash Sales–each on a Monday.)
Steps for the Online Extravaganza
Print or view the flyer. Click here for the printable flyer!
Make your wish list. Download Wish List.full.
Repeat step 3 as often as you'd like! And come back Monday the 30th for the 2nd 24-hr Flash Sale.
Have a wonderful weekend!
Remember, if you can fall in love with a project, you can learn to create it! Here to help you channel your inner Creative Genius…
Steph
LIKE me on Facebook.
Follow me on Pinterest.
Subscribe to my FREE newsletter, and receive my "5 Tips for Making Fabulous Hand-Stamped Creations."