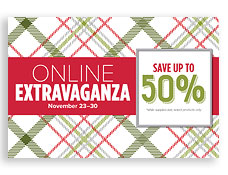 The Stampin' Up! Online Extravaganza started at midnight (mountain time)!!!!
November 23 – November 30!!
***There were a couple changes in the Online Extravaganza List:
A couple items were listed under the 50% deals when they're 30%.
At least one item was included that wasn't intended to be on the list.
Be sure to at least view the new list.
Don't forget the FLASH SALE going on today through Monday midnight (mountain time). Isn't that technically Tuesday??
Steps for the Online Extravaganza
Print or view the flyer. Click here for the printable flyer!
Make your wish list. Download Wish List.full.
Repeat step 3 as often as you'd like! And come back Monday the 30th for the 2nd 24-hr Flash Sale.
You can order any item with this online sale; it does not just have to be extravaganza items.
By the way, does your spouse or significant other have your wish list in hand??
They can get their shopping done for you without leaving the house!!! (I also have gift certificates available.)
Give them this link to shop 24/7!!
or have them go to www.dazzledbystamping.com and have them click the button on the right "shop online 24/7!"
Have a great week & have fun shopping!
Remember, if you can fall in love with a project, you can learn to create it! Here to help you channel your inner Creative Genius…
Steph
LIKE me on Facebook.
Follow me on Pinterest.
Subscribe to my FREE newsletter, and receive my "5 Tips for Making Fabulous Hand-Stamped Creations."