The Cottage Greetings set is adorable–and has a coordinating kit, too!
Here's the first card I made with the set: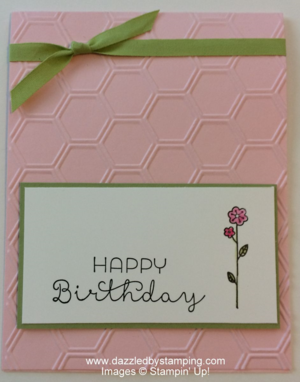 The soft colors of Pink Pirouette and Pear Pizzazz go perfectly with the delicate font of this set.
Oh, and I love the inside saying on this one, too:
Makes me smile.
You have 11 hours to comment on my last post with a color inspiration!
You have 4 days to ADD 2 FREE SETS to a Stampin' Up! [completely customizable] starter kit–and get free shipping on it all!!
Have a wonderful weekend!
Remember, if you can fall in love with a project, you can learn to create it! Here to help you channel your inner Creative Genius…
Steph
LIKE me on Facebook.
Follow me on Pinterest.
Subscribe to my FREE newsletter, and receive my "5 Tips for Making Fabulous Hand-Stamped Creations."