This is such a simple card with such fabulous results!
I believe you know I'm loving the "teals" for Christmas colors–AGAIN this year.
I decided to go simple with this rather fancy set–no framelits this time.
And voila!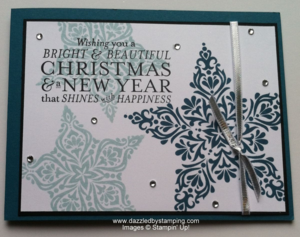 Bright & Beautiful set with Island Indigo, Soft Sky, Basic Black.
Plus Basic Rhinestones and Silver 1/8" ribbon.
Such an easy card for those of us making STACKS of Christmas cards for our friends and family!
(And you don't HAVE to bling it up SO much!! I just had a few extras hanging around. *Ü*)
Have a great week!
Remember, if you can fall in love with a project, you can learn to create it! Here to help you channel your inner Creative Genius…
Steph
LIKE me on Facebook.
Follow me on Pinterest.
Subscribe to my FREE newsletter, and receive my "5 Tips for Making Fabulous Hand-Stamped Creations."