…is a GREAT reason to hostess a workshop or book party by the end of October!!
It's a new, exclusive set for hostesses (through October 31) with workshop sales of $300 or more!
Check it out:
(For some reason, this image won't enlarge well;
click Good Greetings to see it better. But don't be fooled….you can't BUY the set. You can only earn it as a qualifying hostess.)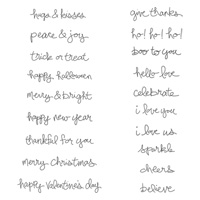 But wait! There's one more way you can WIN it!!
I will be GIVING AWAY a Good Greetings set at my Christmas Stamp Camps!
Once both camps are complete, I will randomly draw a name from all my participants of either camp to choose a winner.
Are you signed up yet?! You can RSVP now:
Before I go, I have another Christmas card to show you–using the Bright & Beautiful set as we'll be using at the camp. (But I already posted a different card we'll actually be making.)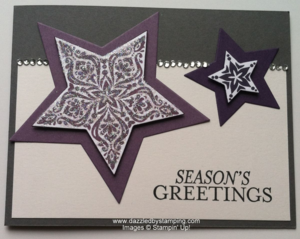 I'm not sure you can see these colors well….the base is Basic Gray with Perfect Plum and Elegant Eggplant stars–and GLITTER! 🙂
Have a great day!
Remember, if you can fall in love with a project, you can learn to create it! Here to help you channel your inner Creative Genius…
Steph
LIKE me on Facebook.
Follow me on Pinterest.
Subscribe to my FREE newsletter, and receive my "5 Tips for Making Fabulous Hand-Stamped Creations."