Have you seen the fabulousness of the Magnetic Platform for the Big Shot/Framelits?
You know how when you use your Framelits, you try to get them positioned perfectly……?
And then they move?
That does NOT happen when you use the Magnetic Platform! As long as your cutting mat isn't too warped.
Look!
When I did this at my club Saturday, Hope said, "Turn it upside down. I just have to see it."
It's the best!!
Well, unfortunately, it's on back order. It WAS until August-ish.
TODAY we just found out SU! is turning off the item (midnight Wednesday, 7/17–technically 12:01am Thursday) until early Fall. Sorry I didn't post this earlier. Stuff came up during the day and then I had a club!
It's so popular that Stampin' Up! sold off what they thought would be 13 weeks of supply in 3 weeks!!!
Yes, it is well-beloved!
So here's the deal….It's still on back order and won't arrive soon, but you can still order it through Wednesday if you want to get it as soon as possible.
Here are your options:
(1) I will be closing my (7/16) Tuesday club at noon Wednesday (7/17). If you'd like to add the magnetic platform to this club, let me know by noon. Normal 10% shipping applies and you pick it up from me when it arrives….
(2) You can place your order online by midnight Wednesday, minimum shipping applies and the order will be shipped directly to you.
(3) You can place your order online by midnight Wednesday with a hostess code listed below….Minimum shipping still applies, but you are giving a hostess credit for your order–OR qualifying yourself for a chance at FREE PRODUCT if you place at least a $50 order with the open house code. Any online orders are shipped directly to you.
Here are possible Hostess Codes within the next 30 days for you to choose from:
Stampers 6 Club, 7/16 – Elaine, A3462EAD
Stampers 9 Club, 7/18 – Lena, 3R9DDTAJ
Connie's Workshop, 7/23, GWGQENCM
Stampers 11 Club, 7/25 – Sue, UAFRAW7W
Open House, 8/1 – TTCVWWZQ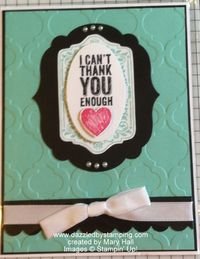 Here's a sample I received from another demonstrator using SEVERAL Framelits: Labels Collection, Chalk Talk and Ovals Collection.
If you have questions, let me know.
Have a great night!
Remember,
if you can fall in love with a project, you can learn to
create it! Here to help you channel your inner Creative
Genius….
Steph
LIKE me on Facebook.
Follow me on Pinterest.
Subscribe to my FREE newsletter, and receive my "5 Tips for Making Fabulous Hand-Stamped Creations."