Had my niece Hayden over yesterday late morning so Morgan could have alone time with Mommy.
Hayden told her mom she was going to ask me to take a bike ride with her.
When she told me, I said she had the wrong aunt in this heat!
Can you guess?
We stamped. And she did great!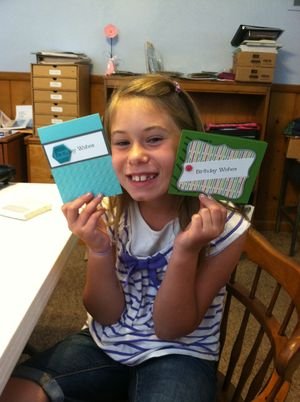 I think she might have liked it. What do you think?!
We also played Payday later. Do you like that game?
I always liked playing "real life" at a friend's house.
NOW my favorite part is that those bills I receive each month aren't really mine!! 😉
Have a great day!
Remember,
if you can fall in love with a project, you can learn to
create it! Here to help you channel your inner Creative
Genius….
Steph
LIKE me on Facebook.
Follow me on Pinterest.
Subscribe to my FREE newsletter, and receive my "5 Tips for Making Fabulous Hand-Stamped Creations."