Oh, but it's not too heavy….
I've been saving a couple of cards to show you….
I love surprises, and we were making either one of these at my clubs last month. I didn't want them to be seen before they made one!!
So they have the same concept but different colors and stamp sets.
Here's the first one: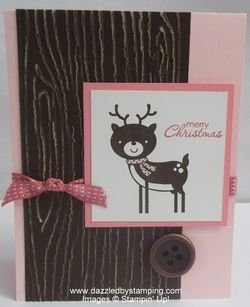 I designed this for my hostess who loves pink.
Definitely not traditional Christmas colors in ANY way, but Diane was happy–and I fell in love with it myself!
Here's the other:
I love my Pool Party!
So what about that "REAL Woodgrain?!"
Start with Early Espresso Core'dinations cardstock and run it through the Big Shot with the Woodgrain embossing folder.
You don't even have to sand it to give it the amazing change of color.
Anywhere Gluestick is perfect for attaching cardstock with SO much texture, without flattening it or ripping it. (Ripping definitely possible with this folder and Core'dinations cs.)
(For more ideas/instructions on using the Core'dinations cardstock, click HERE & HERE.)
Here are more specs on the cards :
Pinks:
Pink Pirouette, Regal Rose, Primrose Petals, & Early Espresso + Brushed Bronze Buttons and No Peeking
Pool Party:

Pool Party, Early Espresso & Crumb Cake + Cherry Cobbler (in markers), Pool Party Seam Binding Ribbon, Antique Brads, Dazzling Diamonds + 2-Way Glue Pen & For the Birds 
So, I know a lot of you have ordered the Woodgrain folder and/or the Core'dinations cardstock….How have you used yours?
Share with me on Pinterest or even on Facebook. (I don't believe there's a way you can share on my blog.) I'd love to see!
Remember,
if you can fall in love with a project, you can learn to
create it! Here to help you channel your inner Creative
Genius….
Have a great day!
Steph
LIKE me on Facebook.
Follow me on Pinterest.
Subscribe to my FREE (bi-)weekly newsletter, and receive my "5 Tips for Making Fabulous Hand-Stamped Creations."