Here's a quick scrappy post to show you some REALLY easy cards for Scrappy Monday!
They are a few more ideas from the Stampin' Up! Regional Seminar–Merry Moments Scrappin' Kit.
They are so cool, because they obviously use NON-scraps (the stickers from the kit) with scraps from the kit to make really simple, really gorgeous cards!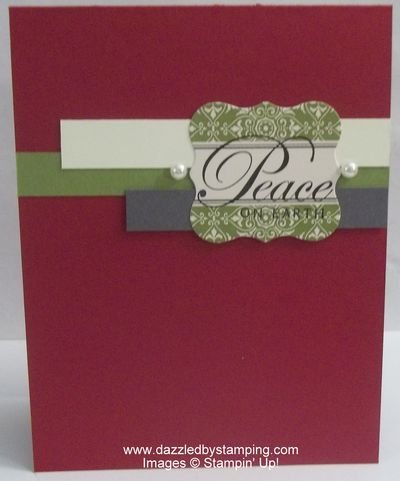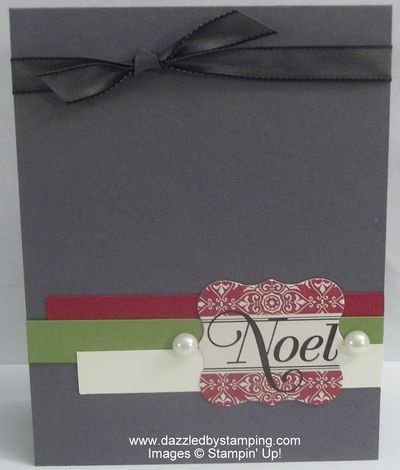 I have to say, the samples stood by themselves just fine. But when I went to re-create them, I felt like I made the second one too low. It still needed something.
So I ended up adding the Basic Black Taffeta Ribbon. It's actually my favorite part!
I've always thought that ribbon was so elegant–and looks so much like Basic Gray, rather than Basic Black.
It added interest to the card, but it was still pretty muted. And I LOVE THAT! It didn't take away from the elegance of the card.
These greetings are also from Greetings of the Season. The first card has the largest of the original Pearl Basic Jewels (#119247)….The second has LARGE Pearl Basic Jewels (#125577.)
So, by they way, do you have YOUR Christmas cards done yet? If you do, share them on Be My PIN Guest so we all can see them!!
Remember,
if you can fall in love with a project, you can learn to
create it! Here to help you channel your inner Creative
Genius….
Have a great week!
Steph
LIKE me on Facebook.
Follow me on Pinterest.
Subscribe to my FREE (bi-)weekly newsletter, and receive my "5 Tips for Making Fabulous Hand-Stamped Creations."