So I've been showing you my Pinspirations for weeks (months?) now….
You know how it's done.
Well, now I'd like to challenge you to do it. Seriously.
I've had a Pinspiration in mind most of the week but haven't gotten to it–and I'm expecting to be out of commission for the weekend and still won't get to it.
So I thought I'd let YOU give it a shot.
Here's the Pin. Love the fun colors: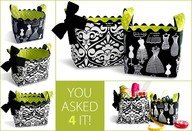 I'd love to see what you can do with it!
YOU interpret the colors.
YOU come up with the design.
And YES, it should be Stampin' Up! supplies for the most part.
Once you come up with your design, POST IT!…….to one of these:
Be My PIN Guest board (part of description should be #pinspiredbyyou)
your status on Facebook; tag me in it and end with #pinspiredbyyou
(I haven't figured out how you can post to my business page at the moment. If you can figure it out, feel free!)
There's really no deadline, but I'd love to have a load of Pinspirations to check out by Monday!
Have fun with this! Tell me how it goes!
Remember,
if you can fall in love with a project, you can learn to
create it! Here to help you channel your inner Creative
Genius….
Steph
LIKE me on Facebook.
Follow me on Pinterest.
Subscribe to my FREE (bi-)weekly newsletter, and receive my "5 Tips for Making Fabulous Hand-Stamped Creations."