I love my Stampers Clubs SO MUCH!!!
My Saturday morning club happens to be my longest running club I have! I think it may be about 8 years that we've had this group together: Sharon K, Hope, Cindy B, Michelle J, Georgianne, Heather C, Mary D.
And I just realized that I can trace back (via hostesses) all but one of these members to one of my first workshops in my first month of demonstrating–almost 11 years ago!
I can actually trace Hope & Sharon back to literally my very first workshop….Sharon (& Hope who was "dragged" along originally and didn't want to come) → Shawne → Mary → Jill → Heidi → Lynn → my first ever hostess, Kerri.
I LOVE THAT!! And I SO appreciate the loyalty of my customers and how you share me with your friends.
THANK YOU SO MUCH!!
Unfortunately, I don't have people pictures! (They probably don't mind, though.)
I'm awful about taking them. I've been trying to be better about that, especially since I've been blogging.
But I've brought my camera to at least 2 different events and completely forgotten I even had it with me! (I just need to give it to Elizabeth. She's good at that.)
Anyway, this is one of my groups that swaps cards when we get together. I thought I'd share their hard work.
Here's Mary DeWit's swap.
See how she used the Word Window punch to make a pocket for the greeting to slip in and out?
Pretty cool!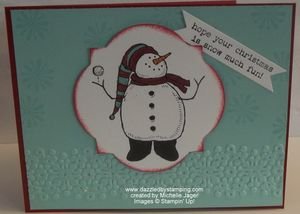 Here's Michelle Jager's card.
This chubby guy from Snow Much Fun is adorable!
I love the Delicate Designs embossing folder at the bottom, too. And who doesn't love Pool Party?!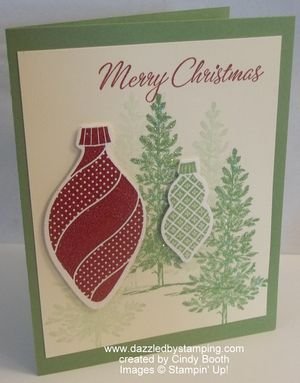 You may have already seen Cindy Booth's card….
She gave us a sneak peek a day or 2 before our club on Pinterest!
You may not be able to see, but there's glitter!!
And can you say, "Lovely As a Tree =  Versatile?" I thought so.
Cindy also had fun with the Ornament Keepsakes Bundle. Very nice.
The last one is Georgianne Everhart's.
This one breaks my heart, because I loved this set, and it's gone!!!
Not only did she use the Northern Flurry embossing folder, but she also added Smooch Accent to the snowflakes–and seemingly the Cherry Cobbler greeting, too.
It seems like I must be missing Sharon's, but now I don't remember if she brought one or not. (If you did, Sharon, and can send me a pic of it, I'll add it later.)
Thank you so much, ladies, for your faithful swapping, great work, and just plain for being in a club with me for all these years!
I LOVE you!
Remember,
if you can fall in love with a project, you can learn to
create it! Here to help you channel your inner Creative
Genius….
Have a great day!
Steph
LIKE me on Facebook.
Follow me on Pinterest.
Subscribe to my FREE (bi-)weekly newsletter, and receive my "5 Tips for Making Fabulous Hand-Stamped Creations."