Checking in with a couple samples before my day gets away from me….(Happy Labor Day, by the way.)
Everyone seems to love this Frightening Feline (click to see details), so I'm glad I have a sample!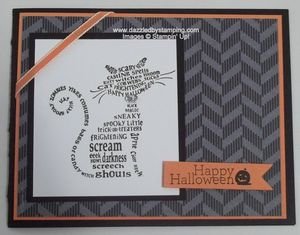 I received it in a demonstrator swap, but it didn't come with a name, so I'm sorry I can't give credit.
The card is cute and simple and uses one of my favorite DSPs in the Holiday Mini Catalog–Howlstooth & Scaringbone, pg 24.
The greeting is from Delightful Dozen (click for stamp images). Any guesses on how many stamps come in the set?! *Ü*
The next card is from my downline, Judi. I think CASEd this from a sample at Convention.
Cute way to use scraps, and I love the Bright Blossoms (click for stamp images) set!
I always think the set is called Summer Smooches, because it was part of my bundle class back in the spring!
Summer Smooches IS a Product Suite that's available, pg 80-81 in the full catalog. DSP, fabric, Brights buttons and Petite Purse die are some of the coordinating products.
Since I'm the subject, here's one of the cards we made in the bundle class.
(Lots of scraps used here, by the way.)
I haven't used this in awhile, but it is is SO FUN! I go in such stamping cycles that I forget I even have all these cute sets! Am I the only one?!
Well, off to spend my day with family–and get prepared for our big day back to school tomorrow! Have a great first day!
Remember,
if you can fall in love with a project, you can learn to
create it! Here to help you channel your inner Creative
Genius….
Steph
LIKE me on Facebook.
Follow me on Pinterest.
Subscribe to my FREE weekly newsletter, and receive my "5 Tips for Making Fabulous Hand-Stamped Creations."