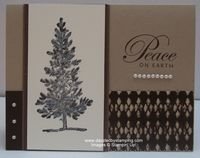 Remember the Core-dinating Lovely As a Tree card from last week? 
This special cardstock–it's the Early Espresso color–is so cool I wanted to show you another way you can use it….
You can get a very vintage or aged look so easily!
First, let me remind you, the cardstock above was run through the Big Shot with the Argyle Embossing Folder and sanded.
(We have a new Sanding System, too. But don't sniff the Dust Buddy….NOT GOOD…just ask Ann!)
Ok, this second card I sanded first, and THEN I stamped on it. Ohhhh! I love the warm, inviting look of this card! It just feels so home-y.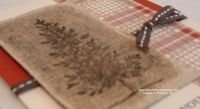 Part of that feel comes from the DSP, which came from the Fesitval of Prints DSP Stack (pg 20, Holiday Mini.)
Did you realize this paper stack is 4 1/2" x 6 1/2"?
Perfect for standard cards OR
Matting your photos OR
Long enough for a strip on a 6×6 page
Did you also realize you can earn a chance to win this stack by entering my Pinterest Contest? Pin a creation of yours using Stampin' Up! products by 9/7….Most repins to other boards wins the stack! Follow me on Pinterest and find my Be My PIN Guest Board. Don't forget to "vote", too!
(small Contest change: allowing full day on 9/7 for pinning to the board and adding onre more day, 9/8, for voting/repinning.)
Ok, back to Core-dinating…..Here's a really cool perspective….This is a picture of what the Core'dinations Cardstock looks like before you sand it!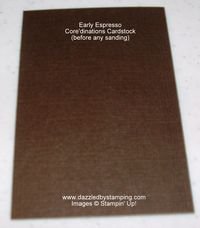 Can you see the texture on it already? Now go back to my sample above. The dark on the second card (besides the tree itself) is the texture that's left behind after the sanding.
Don't they look like completely different pieces of cardstock?! Love!!
By the way, the Dust Buddy is for wiping away the dust left behind from sanding off all the color. (Remember, Core'dinations only has the colored dye on the outside of the cs–very much UNlike our standard cs, which is dyed all the way through.)
NOTE: September is Back to Spool Month….Every $40 order earns a free spool of 3/8" Stitched Satin Ribbon–your choice of any of the 5 new In Colors. You can even shop right from here–button top right…"Shop Online 24/7".
(You could add some Core'dinations Cardstock to your order!! It also comes in Cherry Cobbler and Gumball Green.)
Speaking of back to [school], we made it through our first couple days back to school!! How 'bout you?
I always appreciate when it starts out a little easy….I'm not typically a "dive-into-a-cold-pool" kinda girl. I ease my way in. *Ü*
Thanks for your patience with my in not blogging for a couple days!
Thanks for checking in today! I'll be back tomorrow! Hope you will be, too!
Remember,
if you can fall in love with a project, you can learn to
create it! Here to help you channel your inner Creative
Genius….
Steph
LIKE me on Facebook.
Follow me on Pinterest.
Subscribe to my FREE weekly newsletter, and receive my "5 Tips for Making Fabulous Hand-Stamped Creations."