…in tomatoes!!!!
We have a garden that Todd faithfully tends to. And it's harvest time!
He has a different kind of patience that I don't have….If he didn't, we wouldn't have a garden!
Seriously, I tried gardening several years ago. It's not my thing!
However, I'm very thankful for the produce God has provided. So once it enters the house, I'm on the job….
A couple years ago, I started combining and experimenting with several different recipes I found online, trying to find our favorite salsa taste.
Once Todd said, "This is it!", I stopped experimenting and wrote it all down. We love it every time! (And my husband loves ME for it! Bonus!)
Fresh Salsa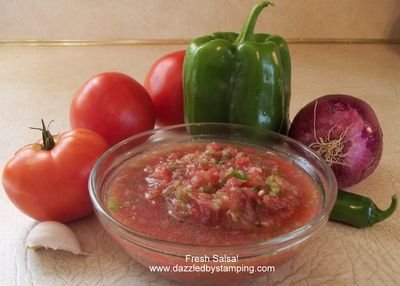 I
do all the "chopping" with the food processor—I don't prefer huge chunks &
it saves time
4 cups fresh tomatoes, seeded,
peeled & chopped
1 RED onion, chopped (don't
substitute; definitely makes a difference)
1 1/2 green bell pepper,
chopped
1 jalapeno pepper with only
1/2 the seeds, chopped (gives a little kick—not too hot)
1 large garlic clove, peeled
1 Tbsp. sugar
2 tsp. cumin
1 tsp. salt
1 Tbsp. vinegar
1 Tbsp. olive oil
small bunch of cilantro (to
taste), tops chopped
(there's probably 1-2 Tbsp once I chop it)

Using food processor, pulse tomatoes
until desired size; measure out 4 cups. Pulse peppers, onion & garlic until
chopped well. Add with tomatoes to mixing bowl and stir. Stir in dry
ingredients. Stir in wet. Stir in cilantro. Enjoy!!  Lasts approx. 1 week (if you don't chow it
all at once!) but it's always best the first day. Taste changes a little over
time. Makes approx 6 cups.
While I'm on the subject, I figured I might as well share my simple recipe for tacos, too….because…..

as soon as I make some fresh salsa, Todd wants some tacos, too.
(You know….if you give a mouse a cookie….)
Tacos
this is a double recipe
1 pound ground beef
1 cup chopped onion
(or substitute equivalent dried onion)
1 clove garlic,
minced (or substitute equivalent garlic powder)
1 can (8 oz) tomato
sauce
1 tsp salt
1 tsp cumin
2 tsp chili powder
1 Tbsp sugar
Brown ground beef with the onion and drain off excess fat. Combine everything
else in the pan and cook long enough to tenderize onion (or soften dried onion) and
reduce down to desired consistency.  If
it cooks too dry, add a little water and cook down again, if necessary.  Serve with warm tortillas and desired taco
toppings.
Note:  Adjust salt and/or chili powder if it seems
too salty or spicy for your taste.  This
recipe also works great with chicken [cooked and "shredded".]  My
family no longer has stomach problems after tacos since using this recipe
instead of a taco seasoning packet.
Have fun trying either or both of these recipes! Once your tummy's full, maybe you can find some time for stamping! *Ü*
Remember,
if you can fall in love with a project, you can learn to
create it! Here to help you channel your inner Creative
Genius….
Have a fabulous weekend!
Steph
LIKE me on Facebook.
Follow me on Pinterest.
Subscribe to my FREE weekly newsletter, and receive my "5 Tips for Making Fabulous Hand-Stamped Creations."