Good morning!
I have more to share from our Retreat this past weekend, but first….
August is about REDEEMING your Bonus Codes & ORDERING Discounted Kits!
#1 Today's the first day you can REDEEM your $5 Bonus Codes!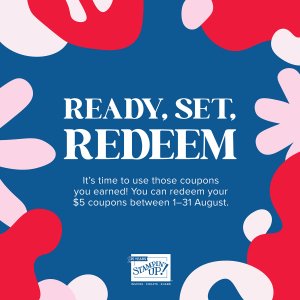 Watch this video that shows you how to redeem the code(s) yourself (fast forwarded to the redemption section).
If I always order for you, you just have to call me or email/text me your order. [I'll need you to forward me your Bonus Code email(s) if you haven't already.]
#2 Shop our KITS this month only (Aug 1-31) for up to 30% discounts!
Click the banner to see all the kits available. 
(Paper Pumpkin Kits are NOT included in the sale.)
---
I remembered to take pics again from our retreat!
Yay.
Haha.
Nadine & I were pretty crafty for our pillow gifts this time!
We watched a video to learn how to do this beading.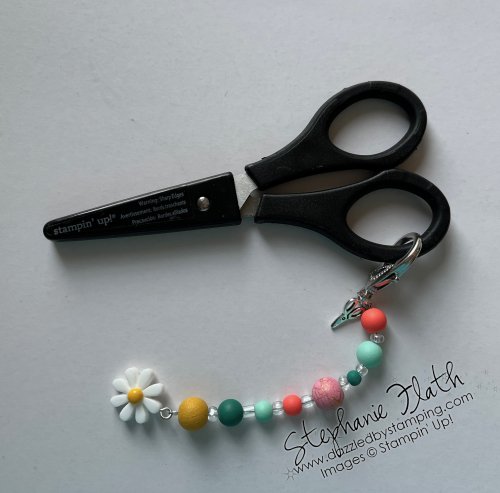 We made these scissor fobs! (I kept calling it a scissor charm. But there's one of those on there, too! Can you see it close to the handle?)
I think I said yesterday that we featured the Inked & Tiled bundle/Inked Botanicals Suite.
So we stuck with all the colors of that suite.
While we used all the same colors, we made each one a little different, so people could actually tell theirs apart from their neighbor's.
Here's my designed journal:
Obviously, I used a couple things that were NOT part of the Inked Botanicals Suite.
But I liked how the black from the ribbon added to the design.
And here's my make-n-take that I designed:
Here's our goody bag and the other pillow gifts again: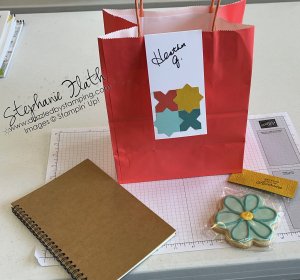 Here are the products included in the goody bag and used for these items:
Have a magnificent day!!