Good morning!!
This MAY be my favorite sample Jamie made for her VIP Stamper month with Just My Type!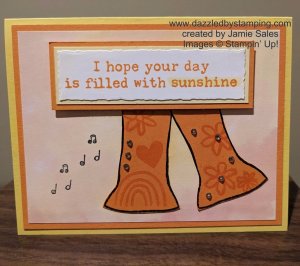 CAN YOU SEE HER VISION???
What is it?
Here's Jamie's story:
card #3 with the Just My Type set – This one is certainly out of the box, but I had an idea & wanted to see if I could pull it off.

My 21 year old works the front desk at the nearby casino hotel. The day this stamp set arrived, my husband got a text from him, asking "Do you know Harry Casey? I guess he's supposed to be famous or something. I just checked him in." I'd seen the billboards to know that KC and the Sunshine Band were playing at the casino, and of course it was one of those moments that makes you feel your age LOL. My husband pulled up YouTube videos so we could show my son when he got home. As I sat at the kitchen table, listening/watching the videos, I glanced down at the stamp set sitting there and saw pant legs in the sheet of paper stamps. The flowers and rainbows reminded me of the stitching on the bell bottom costumes, the word Sunshine was even in the sentiment, and an idea was born.

I wasn't sure what l would do with such a card, but I wanted to give it a try. Then, I was invited to a 50th anniversary party. A Google search told me that the Sunshine band was founded in '73 so wa-la, a flashback card idea for any 50th birthdays coming up.
This story makes me smile, and I LOVE a good out-of-the-box idea!!!
The musical notes are from the Zany Zoo set.
Click here to order:
Have a groovy day!!