Good morning!!
The post is finally here you've all been waiting for!
I have remodel pics to share with you!!
It's complete–no more touchups or fixes.
(By the way, we loved our painter and would highly recommend: Brayden Bissell, 616-460-9329.)
We just still have to plan window treatments and maybe some decor.
We're SO HAPPY with our new kitchen and updated bathrooms!!
Here's our original kitchen:
These pics were actually taken last year–in fact, almost a year ago–as visuals to go along with the measurements we gave to our kitchen designer.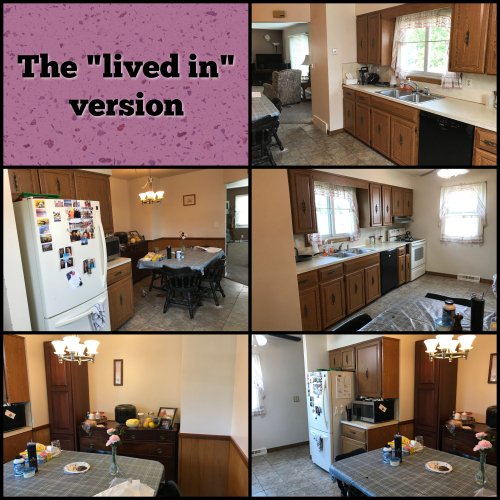 A few of the biggest changes:
We had the bulkheads removed–to replace with cabinets to the ceiling.
New counter/cabinets were installed in the back nook to replace Todd's grandma's buffet and the tall stand alone cabinet. (We're still not sure what we're doing with her buffet.)
We also had SO much electrical work and updating done! (starting with…we previously had NO grounded outlets in the house! We gave our electrician A LOT of work and were VERY HAPPY with him and his team!! Aaron Kindel/Ark's Electric 616-636-8289. They're in Pierson, MI.)
Here was our "glamping station" in the basement for a couple months for any meal prep we had: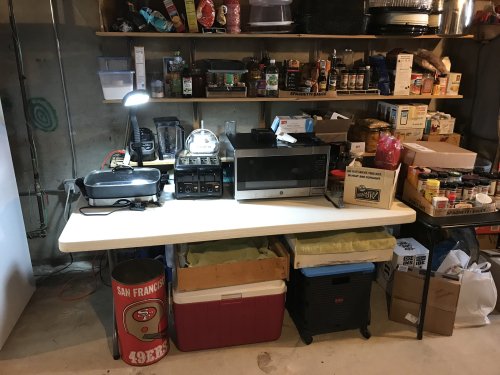 I was very thankful Tyler let me go over every week for a cooking day!
Some weeks I only needed to have a dishwashing day. 🙂
Before and after pics from a few angles:
(old flooring was vinyl squares; new is snap in [floating] laminate)
Side Entryway–going up to the kitchen/the door used 95% of the time: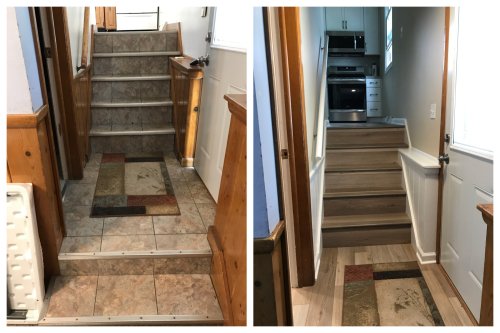 My favorite part of my new kitchen is that big top drawer!!! (Notice the open hole on the right in the old pic? That's the size of a drawer underneath that held all my big spoons, spatulas, etc.)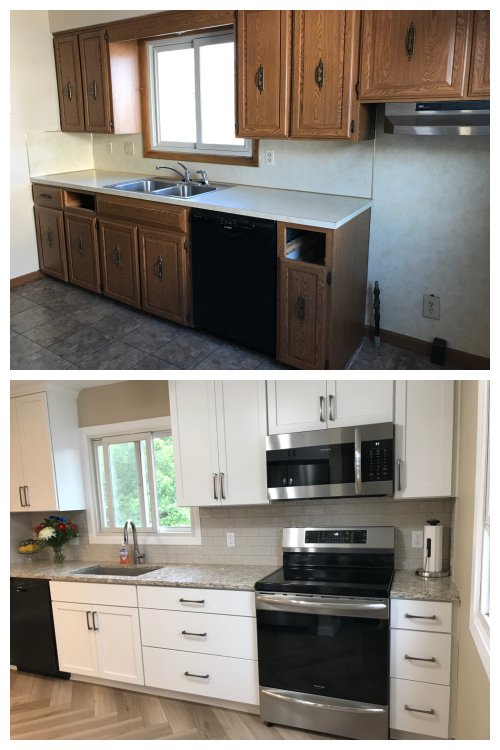 We LOVE our herringbone flooring!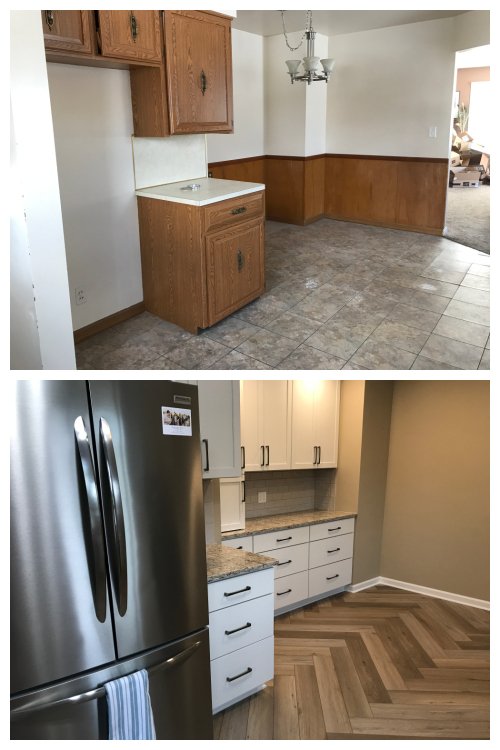 Eventually, we'll be putting our table back, but up against the wall in it's 2-person-wings-folded-down version.
And our big, deep sink, too!
We love having the more functional counter and cabinets in the back! We got rid of most of the stuff we were just storing in the buffet and had a cabinet made large enough to store my Kitchenaid mixer and dehydrator.

Downstairs bathroom–notice my Rich Razzleberry hand towel 😉
The flooring is the same as the entryway–laminate, but not herringbone since it's such a small space.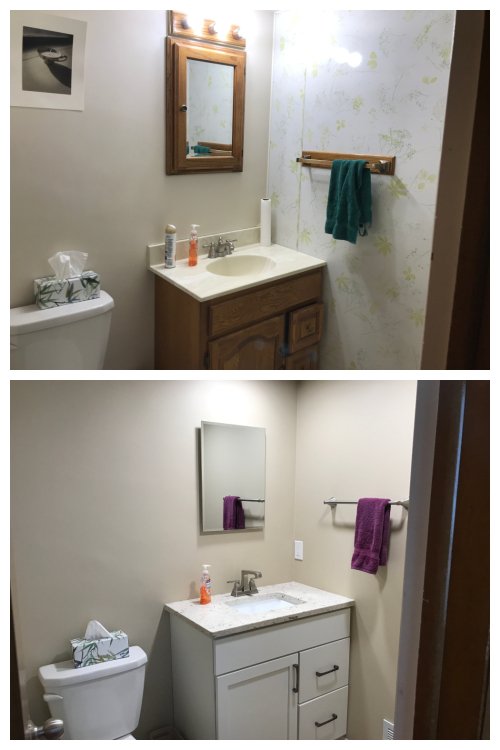 Upstairs bathroom–SO thankful for a more functional vanity! It definitely takes up more space, though. 😉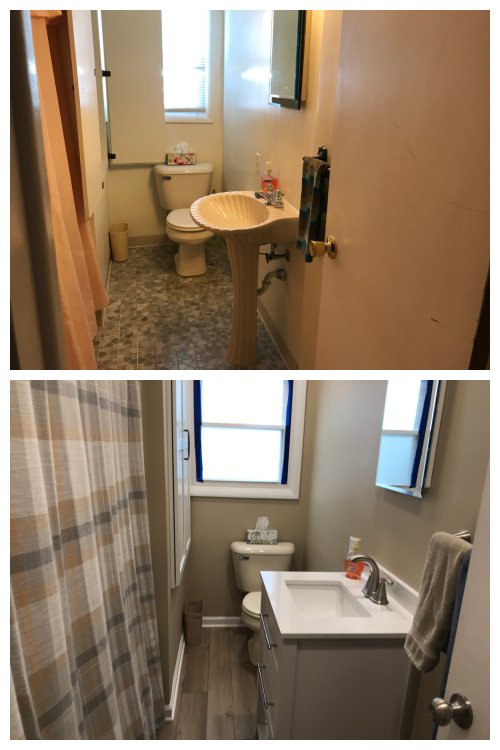 We are completely loving our remodel!
It's such a strange feeling having everything done!
I keep looking around like something's missing.
WELL YAH!!!
The little blue tape pieces (to mark where work was needed and/or where someone's work removed paint), the bumps or scrapes off the paint…
They're gone!!
And some of them we'd been staring at for a couple months.
The painter got his work done and waited til everyone was out before finishing.
Haha. It's just surprisingly a funny feeling.
We're so thankful for our beautiful new kitchen and bathrooms!
Ok, I'm done sharing for now!
I will be going Live! Wednesday at my normal time–10:30am ET, and at the end I'll do a walkthrough of the remodel.
Have an amazing day!!