Yay!!!
It's the weekend!!
Any big plans??
We have a couple things brewin'.
Just love the weekend and the weather is PERFECT at the moment.
Here's a couple more Sweetest Cherries samples for you: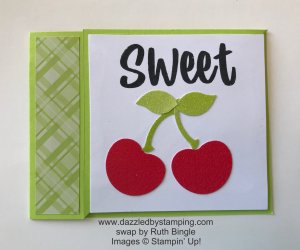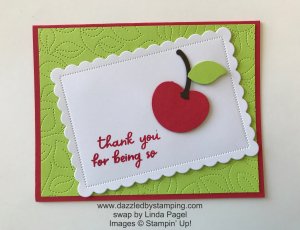 Here are a few products specific to these swaps:
---

BOGO Half Off
I thought I'd give you a look at the kits that are available (at least at the time I composed this post…ALL kits are always available WHILE SUPPLIES LAST and may come and go in Stampin' Up!'s online store. In fact, there was at least one that I didn't picture here, because it's currently unavailable.)
Click any product pic to order!
Place a $60 order online with host code 3U2QP7DU to receive a free gift from me.
Shopping link with host code applied: https://www.stampinup.com?hostcode=3U2QP7DU
Have an awesome weekend!!
ps: It's official! Our remodel is DONE. We still need to work on window treatments, etc. But NO MORE CONTRACTORS HERE!! (or lil blue tape pieces everywhere!!) I'll be posting pics next week, and I'll give you a tour at the end of my Live! next week. 😀