Happy Friday!!!
Are you excited for the weekend?
I always love the weekend. 🙂
So first I'm gonna dive right into my blog candy winner!
Congratulations Marlene VanderZouwen!!
You won the Tailor Made Tags Dies!
I have to say THANK YOU to everyone who has commented on my blog.
I just love reading what you have to say.
You're so kind, and you make me laugh.
I love having inside jokes with you, too. 😉
---
NEXT, I have my last set of samples from my Hostess Appreciation Party.
And there's a bunch of them.
Did the On the Horizon stamp set or New Horizons DSP catch your eye in the catalog??
They were featured at OnStage@Home. ♥
They're AMAZING, and I had to share their amazing simplicity at my HAP.
For our cards, we used a stamp or 2, gorgeous DSP, a simply fabulous die and a fun embellishment.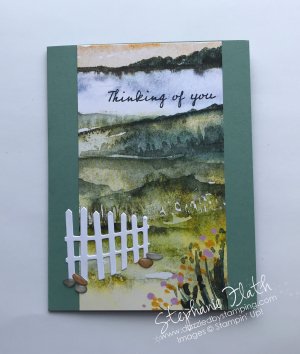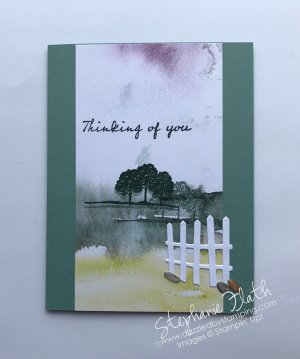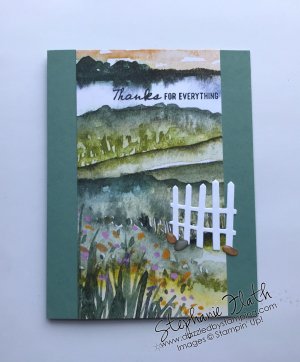 The DSP I chose featured abstract/impressionistic trees and beach.
The other half of the DSP designs features mountains.
SIMPLE MEASUREMENTS:
Soft Succulent card base: 5 1/2" x 8 1/2"; scored at 4 1/4"
DSP: 3" x 5 1/2"
Basic White & Adhesive Sheet: 2" x 2"
Here's what you need to make these cards:
(click any pic to order!)
---
I have one last giveaway to celebrate my 20th anniversary!
This time I have the Many Messages bundle.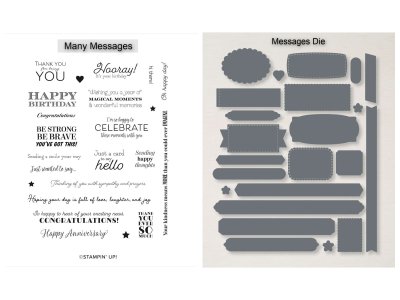 It's one stamp–a little bigger than a card–and one die that cuts all these sayings out.
If you haven't seen me use it before, I suggest using a Stamparatus with it to make sure you get it inked well.
To be entered for the drawing, comment on this post with your favorite Stampin' Up! color of all time.
You have through Sunday to enter, and I'll announce the winner on Monday on my blog. 🙂
Oh, and by the way, I WILL be Live! on Wednesday.
Right after my Live! this week, I received a call from the contractor; he'd been in a car accident that morning.
He has 3 broken ribs and a broken sternum!
Praying for his healing, as well as others involved in the accident.
So we're postponed at least a week; he'll touch base again next week.
So–I'll be Live! Wednesday. 🙂
Have a fantastic weekend!!