Good morning sunshine!
(I can still hear my 2 year old Liz saying that to my 5 year old Tyler one morning, years ago: "Moneen shunshine!" ♥)
I love kid stories! 
They're my favorite.
So I have a winner for my last giveaway!
Congratulations Sharon Kruse!!
I'll be sending your bundle soon. 🙂
Thank you for everyone's comments.
Today I'm sharing one of my cards from club this month.
This one features Flowering Rain Boots bundle: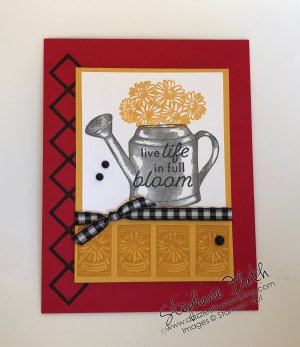 This is another card that makes me so happy!
And it was a little surprising, too.
I bought this bundle sort of spur of the moment. 
It may have been a half off item.
And I was just in the mood to use it.
And voila!
Like many cards, you REALLY have to see this card in person!
There's something about the hard/dark outline of the watering can that is just so satisfying when you stamp it!
Here's everything you need for the card:
(click any pic to order!)
Have a magnificent day!!
Happy stamping!