Good morning!
I remembered to take pics!!
And Todd helped, too. 😀
We had a fabulous time at our cooking class!
As I mentioned Friday, Tyler gave me a class for my birthday.
(I had so much fun at the candle class back in October, that I gave the class idea to Tyler. I knew Todd would have fun, too. And I was right!!)
So the class we took was at Fustini's in Holland–"Ravioli and Sauces."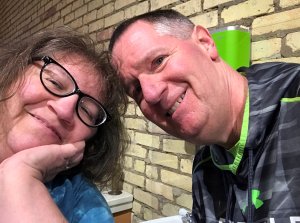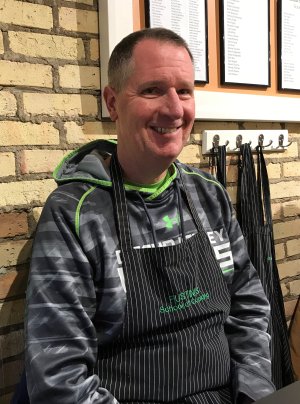 We made our own pasta dough (and took it home) and used the dough the instructor had made when we were all getting there.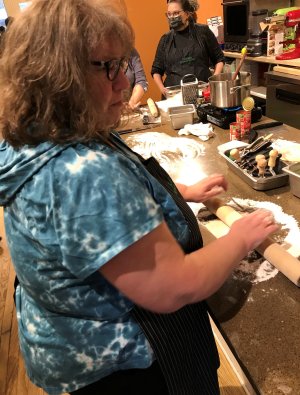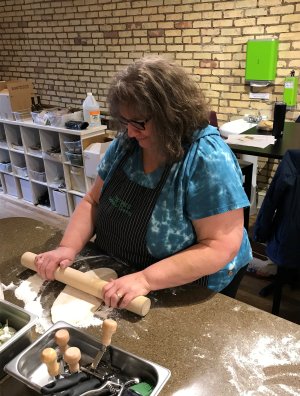 Todd was a little surprised when he was asked to make the pesto for all of us. (We got the recipes to take home, too.)
"What if I didn't have any experience cooking??" 😉
He did a good job!
But I didn't get pics of that, because my fingers were covered in pasta dough at the time!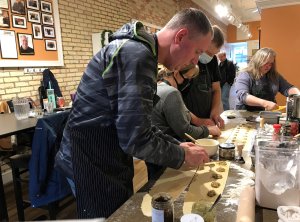 These are fillings we used for our ravioli; Todd got all the mushroom ones. 😀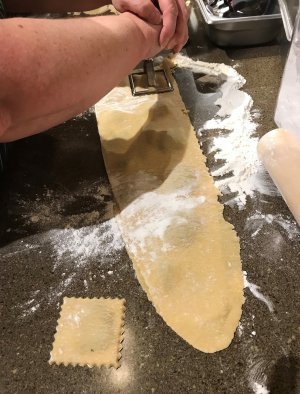 The sauces we made besides pesto were bolognese and [authentic] alfredo.
It was delicious!!
As Todd said, "we had a blast!"
I knew he would!
Which is funny, cuz when I first told him about the class, his reaction was not at all what I was hoping for!…."Ok." :/
His defense was that he didn't know what to expect. Silly man!
Good think I like him! 😉
We also brought a few products home.
One of them was a vinegar that reminded me of a red wine vinegar dressing from a restaurant we used to go to with Todd's dad. We liked dipping our cheesy garlic bread in it. I made garlic bread this weekend, and it was perfection! Oh, and we still have pasta to make at home!
So much yummy goodness.
---
So here's a little bit of Christmas!

Walter and Ginger went to a puppy Christmas "pawty."
A "together" pic didn't work, so there's a collage instead.
The collage cracks me up, cuz Walter is the only one that's not "smiling."
But he's still being so good and is so cute!
Tyler said he wasn't so sure about sitting on the bench and holding still with so much going on around him. 🙂
Do you have any fun Christmas traditions or something new you're doing this year?
Liz is working in retail now and won't be coming home for Christmas–no time off.
I started a tradition awhile ago.
I make sugar cookies and colored frostings and have colored sugars available.
I leave them for Liz to decorate.
She's very artsy, and decorating them is sort of a therapy for her.
She wasn't able to come home for Christmas last year either.
So I'm hoping to send stuff to her like last year.
Enjoy your day and preparing for the holidays!