Hey–
Did you read about the savings on the Starter Kit yesterday??
TODAY–and for the rest of the month–sign up to join my team and get $125 of product for only $75 + tax (no shipping)!!!
That is a 45% savings!!
Are you looking for the discount on product?
You get 20% instant income on all products.
Are you looking for a "side gig"?
You can grow your own business! Have classes…grow a team…sell stamped items…YOU CHOOSE!
Are you looking for your tribe?
My Dazzling Demos love to hang out and craft together! We're family.
YOUR CHOICE:
Have classes or not.
Come to our Dazzling Demos team meetings or not.
YOU CHOOSE what products to include in your kit! You can EVEN choose the full size Stampin' Cut & Emboss Machine–the "Big Boss"! (This is an item you CAN'T choose as your half off item as a hostess.)
Let me know if you have questions!
I'd love to have you on my team!!
---
Here are my closeups from my Live! yesterday: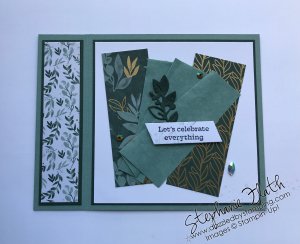 To order any of these products used, click the pic:
Have a wonderful day!