Happy Donut Day people!!!
I found out yesterday it's National Donut Day today!
How are YOU celebrating?? 😀
I don't have any here. :/
We have a beautiful new stamp set Daisy Lane on pg 23 that's fabulous for a few reasons:
It coordinates with our previous year's/current Daisy Delight stamp set (pg 96) and Daisy Punch.
It coordinates (and is bundled with to save 10%) a NEW MEDIUM Daisy Punch!
It has a really pretty mix of fonts. (Are you big on fonts? I LOVE words! And fonts are a big draw for me.)
I already showed you a couple cards with this set on my Live! a week ago…
I had been playing with it along with our new In Colors, and I designed a really cool card that used an embossing folder that I suddenly thought I saw had retired!
🙁
I was so sad.
I can't/don't–to the best of my ability–show you stuff that you CAN'T have.
Well…….I double checked after someone else used it for their swap at my Dazzling Demos Team meeting last night.
IT'S IN THE NEW CATALOG!!!!!
WOOHOO!!!!!
So I'm here to celebrate that–AND tell you that I.CANT.WAIT for my new Medium Daisy Punch to come in my order!!!!!
(We got the stamp set FREE at OnStage in Minneapolis…..dying here WAITING for the other coordinating punch!!)
So here it is…with the new Rococo Rose.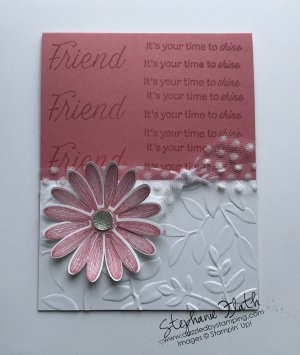 The folder is Layered Leaves.
And it IS….wait.
Hmmm.
Well, this is embarrassing–but I guess as good a time as any to announce and explain something.
Um. This folder is NOT available right now.
Explanation–another blogpost to follow:
Do you recall SU! is in a transition period with our die cutting machine?
Negotiations with the previous supplier didn't go as well as they hoped before the transition.
Our current supplier will be making our folders and dies, etc.
And the 3-D folders that carried over from the previous catalog are not available in the new style yet.
:/ I'm sorry.
I just tried all the carryover folders–making sure I understood what I was reading correctly. 
So–any of the Terracotta Tile colored folder images (pg 198-199) in the catalog that DON'T have an N (new) next to them, aren't available again yet.
The Purple Posy colored images are good.
…which is somewhat ironic, cuz the Purple Posy ink pad and refills are NOT available.
Some of the pads/refills are foamy.
Mine is fine, but there were enough defective that SU! had to pull them while fixing the problem.
Ok, so this was supposed to be an EXCITING POST!!
And now I have to make sure you're informed!
To recap some of these announcements–AND give more info, I'll be posting again shortly.
IF YOU HAVE the Layered Leaves folder already, YAY!! 😀
And I STILL.CANT.WAIT to get my Medium Daisy Punch!!! 😀
Have a fabulous day & weekend!!