This was the first card I imagined and made with the new suite of products.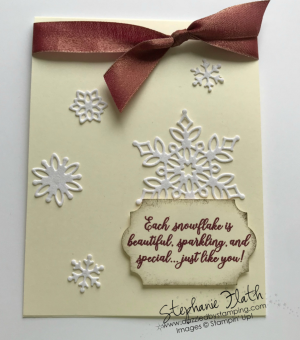 I showed the snowflakes at my club last night, and felt a little foolish but I couldn't help it!!!
I LOVE the new velvet paper these snowflakes are cut from!!!!
When I was showing the flyer and talking about the paper, I was rubbing the pic of the paper with my finger even though it wasn't actually velvet!!
hahahaha!
I can't help it!!!
Quick stats: Very Vanilla cs, Merry Merlot & Early Espresso ink, Merry Merlot/Copper ribbon
Have a fabulous weekend!!
(I have BIG news to share tomorrow!!)