I'm really sorry this is so late!!
I missed Saturday. :/
I have LOTS to share with you, so this could be a long post!
Exciting news!
Details on NEW exclusive products–November only/while supplies last
Sad/unavailable product news
Birthday offer
---
Ok, so first, here's my BIG NEWS!!
I found out Thursday that I was ranked in the top 200 US Demonstrators Overall!
I am #143 out of 33,000!!!!!
I am in total shock!!!
There was a reveal Thursday, which I honestly kinda forgot was happening.
But at the same time, I honestly wouldn't have looked for my name!
One of my new local demo friends messaged me and said, "MY FRIEND IS A ROCKSTAR!!!"
My response: "Uuuhh thank you???"
(I thought maybe she watched my Facebook Live! and really enjoyed it or something!)
She said, "You'll see." So I went looking.
Still in shock that I found my name!
So I have to say THANK YOU, THANK YOU, THANK YOU!!! to all my customers, my Dazzling Demos Team and my family–especially My Love, of course–for ALL YOUR SUPPORT, encouragement, hard work (for some), and orders, too! 😉
I APPRECIATE YOU!!!
Obviously, I could not have done this on my own!
So THANK YOU!! SO MUCH!!
2 of my Dazzling Demos Team and I are leaving for Orlando OnStage Live! this coming week to celebrate our achievements and have fun with thousands of other Demonstrators!
We're ALL celebrating Stampin' Up!'s 30th Anniversary!
We'll get new product, the Occasions and Sale-a-Bration Catalogs, training and SWAPS!!!!
CAN'T WAIT!!!
---
Stampin' Up! has an exclusive suite of products available November 1-30–or while supplies last!
Both stamp sets are photopolymer AND they both coordinate with the Snowfall Thinlits! 🙂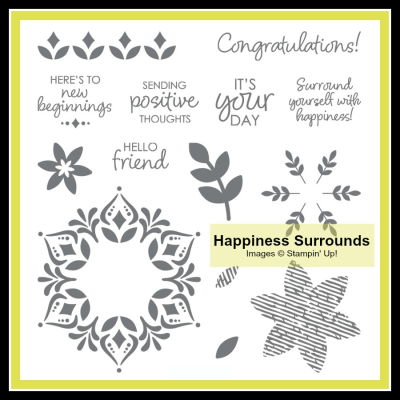 Here's a video Stampin' Up! made for us:
Here's another sample I made: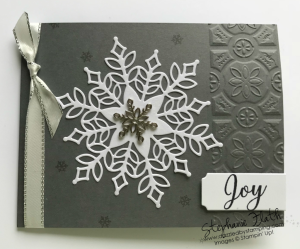 Here's all the links for all the products:
Don't miss out on these amazing products!!
They're only available THIS MONTH…OR WHILE SUPPLIES LAST!!
---
SPEAKING OF WHILE SUPPLIES LAST….
Unfortunately, there are a few Holiday Catalog items that are NO LONGER AVAILABLE TO ORDER. At all.
The popularity of these far exceeded Stampin' Up!'s forecasting.
If you ALREADY ordered the items–even if they are on back order–you will still receive them; but I still have no set time of when they will arrive.
Here's the list of products NO LONGER AVAILABLE:
147816: Joyous Noel Specialty Designer Series Paper 
147890: Festive Farmhouse Elements 
147811: Santa's Workshop Enamel Elements
As another option for ordering Designer Paper, Stampin' Up! is making the (Hostess Incentive) Dashing Along DSP available to order:
 I'm sorry for any inconvenience this may have caused!
---
BIRTHDAY OFFER
That's right–this month is my birthday!
AND I'm turning 50!!
So I'm celebrating and offering you a deal!
EVERY order that is at least $50 in November will be entered into a random drawing for a $50 Stampin' Up! shopping spree from me!
ALSO, if you apply my hostess code Z7R6K6VF to your online order, you'll receive a free package of Basic Rhinestone Jewels!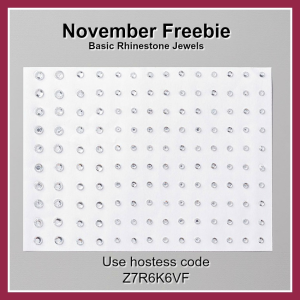 Free items will be available or mailed early in December.
Good luck winning a shopping spree!!
Enjoy the rest of your weekend!