I have a REALLY FUN card to show you today!
BUT FIRST–
Starting tomorrow, "my office will be closed" until Monday, 7/30.
If you have questions, ask them now! 🙂
Or feel free to email me questions anytime; but after today, I just won't get back to you until the 30th.
Extra Special:
WHILE I'M GONE (7/19 – 7/29)…with every $50 you order using hostess code UK7BCY3D, I'll send you a $5 gift certificate to be used in August.
ALL other specials are STILL VALID through the end of July.
---
New Events added:
MOMMY & ME CLASS – Tuesday, 8/7, 10am – 11:30am (2 M&M spots left, or max 4 people)
(I may add another class in August, but I'm unsure of my schedule. Day classes are easier add-ons in summer. Any interest? Requests?)
CRAFT THE NIGHT AWAY!!! – Saturday, 9/15, 6pm – midnight
More September classes will be added later.
---
Ok, here's my FUN CARD!!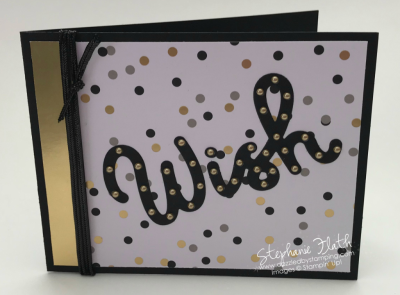 Check out the detail:
This was fun! 😀
Between this card and the ones we made in club this month, I went through a WHOLE PACK OF METALLIC PEARLS!!!
I made it through the last club with 1 to spare!
241 pieces gone! 😉
(Of course, SOME of them MAY have ended up on my floor since they slid off the packaging so easily. :/ )
And btw, I didn't just randomly decide where to put these metallic pearls.
You know how the thinlits have poke holes in them to get the cut piece out?
Do you also remember they leave little impressions behind?
Well, I just used those spots to place my pearls!
Ok details here:
Have a fabulous day!!
Don't forget the specials going on through the end of July! Click here.
**Truth in advertising: less than 1% of all Stampin' Up! Demonstrators earn the incentive trip each year.