I think this may end up being one of the most amazing parts of our trip!
I can't wait!
I came back to the Broadway Birthday bundle to show you how we used SO MANY Metallic Pearls this month!
I came up with this idea for 2 reasons:
I wanted to use the negative space of my thinlit.
I had all club orders shipped directly to my customers, so I didn't have their bags to put their thank yous in.
 So one of their projects was double cards: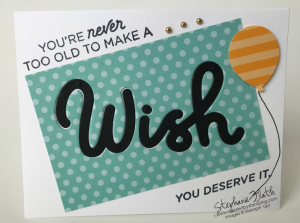 I used several different colors with my clubs this month.
It's a fun process!
KEY: YOU MUST KEEP ALL PIECES FROM THE THINLITS!!
(We used a piece of scrap paper folded twice to card size to hold them all.)
Here's what would be 2 separate clubs or split colors within a club: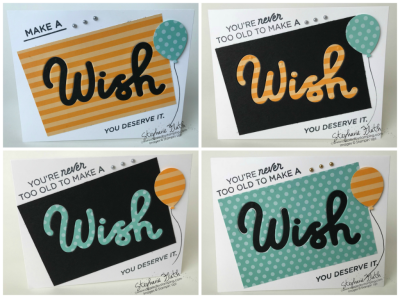 Top 2 go together.
Bottom 2 go together.
Here's what you need to make all 4:
2 sheets of Whisper White cs (or whatever your card base choice is.)
2 6×6 sheets of coordinating color DSP
2 4 1/2" x 6" pieces of Basic Black cs
1 Multipurpose Adhesive sheet (cut lengthwise in half–at 3", then the other way at 4 1/2" twice. You'll have 2 3"x3" scraps left. **If you're making LOTS of these, cut off the 3" end first to use for another set.)
Cut 6×6 DSP in half; then cut again at 4 1/2".
You'll have a 3" x 1 1/2" piece to use with the coordinating DSP to punch out the balloons.
Attach adhesive sheet to back of black and DSP before running through the Big Shot with "Wish". 
Remove the backing from the negative space first and place that on card.
Remove backing from the oppositve W (it's separate from "ish") and place that inside the negative space; do the same with "ish" and then again with the dot on the "i".
Take the SAME color as the negative space for the loop on the "h" and center of the "s". It's very tiny!
Color combos I've used:
Coastal Cabana/Mango Melody (this one)
Bermuda Bay/Poppy Parade
Calypso Coral/Petal Pink (it has a peach tint)
Blueberry Bushel/Call Me Clover
Highland Heather/Pear Pizzazz
Don't forget about ALL the specials going on!!!
I used the Color Collections of DSP in this project.
I'm offering it as a free gift with a $75 purchase using my hostess code.
+
Extra Special:
WHILE I'M GONE (7/19 – 7/29)…with every $50 you order using hostess code UK7BCY3D, I'll send you a $5 gift certificate to be used in August.
Have a great week!
**Truth in advertising: less than 1% of all Stampin' Up! Demonstrators earn the incentive trip each year.