I LOVE THIS GUY!!
And decided I needed to use Little Elephant for my Dazzling Demos swap card for our team meeting…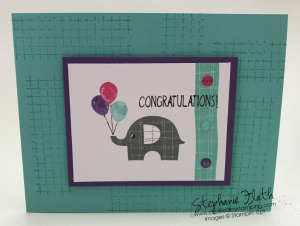 I chose these colors straight from the pack of Glitter Enamel Dots! 😀
Can you see them on here?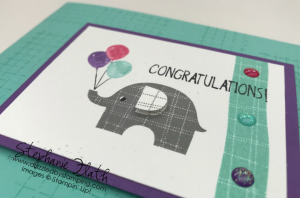 The bundle includes a punch instead of thinlits.
BONUS–in my opinion! 
Hey–do you wanna join my team and come to my team meetings??
We have great fun!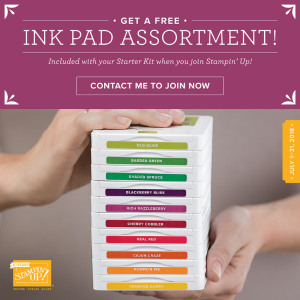 Remember–this month your $99 standard kit includes a color family of ink pads of your choice!
$99 + tax
$192.50 of product
no shipping
no obligation to sell or have classes (but always the option to do so)
complete access to the Demo website, team meetings and SU! events through January–even if you don't sell one thing.
easy to sign up online; CLICK HERE
available through July 31
COUNTDOWN TO CRUISE:    10 DAYS!!
I'm planning to use Little Elephant for my Alaskan Cruise swap, too!
I was working on those at our Craft the Night Away on Saturday.
I'll share later. 🙂
Here's the list for this card:
Have an amazing day!!