I'm super excited about my Open House today!
It goes 1:30pm-8:30pm at my house.
(and Saturday 9:30am-12:30pm)
I LOVE our new product!!
But I'm also EXTREMELY excited about a set of tools I bought that came yesterday!
EVERYONE–myself included–wants to see the Designer Series Paper (DSP) IN PERSON!!!
However, buying it ALL isn't practical or even necessarily desired. 
Well, I bought a set of DSP swatchbooks from another Demonstrator, Dawn Olchefske, and they are AMAZING!!!
I appreciate all the time she put into it!
(saved.me.so.much)
And I love her vision of having all the relevant info right on the front!
LOOK!!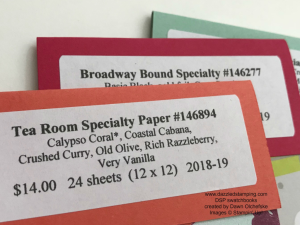 The (*) by one of the colors is the color cardstock used for the "cover".
I'll have these available to browse at all my events.
But you may want to stop by special to see them before the Buy 3, Get 1 FREE sale next month! (July 1-31)
Come stamp with me today and check these out!!
Have a great day!!