I don't even have this set, but this swap is just my favorite!
Isn't it amazing?
So I mentioned I was gonna give you a sneak peek at a suite of products that will be avilable to YOU next month!
The suite is called Share What You Love.
Next month you'll have the option to preorder it in bundles AND I'm having a class with it.
I'll have more details when May gets closer.
But here's what WE made with it at OnStage–and one of the cards you'll make with me in May: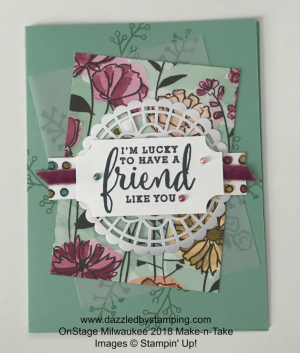 It's a FUN suite to play with!
I love these colored pearls!
And the DSP!
And the Rich Razzleberry Velvet Ribbon!
And…
😀
Thanks for stopping by!
Have a fantastic day!!